A robot powers up to assist with surgery at UF Health The Villages Hospital.
The soft fur of a mechanical puppy comforts a member of the Day-Break Club of The Villages.
An employee at Metal Industries' Bushnell facility picks up a diffuser welded together by a robot.
Children gather around a robotic Lego project at Wildwood Elementary School to show off their creation.
It's hard to imagine our lives without the technological partnership between humans and robots. Whether or not we realize it, robots are influencing our health care, emotional well-being, manufacturing and education. And, for the next generation and beyond, understanding robotics may be essential.
Spending on robotic equipment accounted for 1% of the United States' total equipment spending in 2020, according to Annual Capital Expenditures Survey estimates recently released by the U.S. Census Bureau. That translates to about $9.9 billion, up from more than $7.5 billion in 2019.
Three sectors — manufacturing, retail trade, and health care and social assistance — were responsible for 89.7% of expenditures.
The pandemic certainly played a role in advancing robotics. The Florida Department of Elder Affairs helped caregivers and dementia patients battle isolation with robotic pets. Organizations bought ultraviolet light germ-zapping robots. As for industrial robots, Mark T. Davis; associate professor with the Department of Business and Technology and supply chain program manager at the College of Central Florida, thinks the pandemic accelerated the speed to which robotics and automation will be introduced in the workplace.
However, the rise of robots has been in the works for a long time, including in the field we cared about most during the pandemic: healthcare.
Using Robots to Fight Pain
There's a reason why general medical and surgical hospitals invested $424 million in robotic equipment in 2020. Robotics has applications in multiple areas, from prosthetic limbs that would look at home in a superhero franchise to mechanical contraptions that make surgery less painful.
"In general, robotics allows you to do more minimally invasive surgery and more complex surgery in a significantly better way," said Dr. Alexander L. Ayzengart, assistant professor of surgery, Division of Gastrointestinal Surgery at the University of Florida College of Medicine.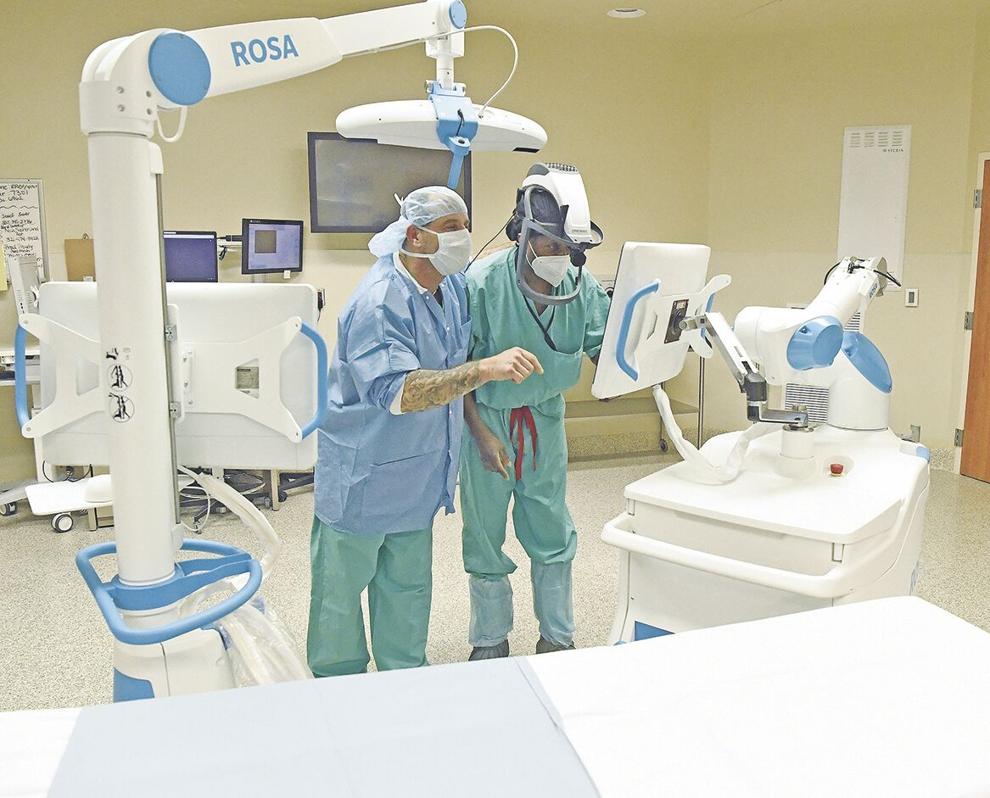 Locally, UF Health The Villages Hospital has a history of investing in robotics to improve patient outcomes. Back in 2015, the hospital received the da Vinci Xi surgical system. Since then, it's been part of more than 1,000 surgeries, including 115 from January to December 2021.
"Overall I think most of the public is aware of it, but still I see some patients who get surprised that we can do this big operation with the robot through small incisions," said Dr. Venkata Marella, urologist at UF Health The Villages.
Surgeons use the da Vinci Xi to perform certain procedures, such as hysterectomies and prostate removals, with smaller incisions. That leads to less pain, scarring potential and pain medication, as well as shorter hospital stays. The da Vinci system has three parts. There's the visual cart; according to the company, this facilitates communication between components and supports the visual system, the arms; which hold the ports and instruments, and the console where the surgeon sits.
During surgery, ports are slipped into small incisions in a patient's body, and small tools are inserted through the ports. Surgeons sit in front of the console for a detailed 3D view, and use hand and foot controls to move the instruments.
Most of the time, Marella's patients can go home one day after surgery.
"Precision is a key here," he said.
Hospitals are continuing to invest in robotic surgery, and sales of da Vinci systems are on the rise. Intuitive, which produces da Vinci Surgical Systems, reported it shipped 385 systems in the fourth quarter of last year, an 18% increase compared with the fourth quarter of 2020. That's a 17% revenue increase.
UF Health The Villages Hospital is also continuing its investment, but with a new ROSA Knee system.
ROSA stands for robotic surgical assistant, an apt name since, like with the da Vinci Xi, the surgeon remains in control.
Unlike the da Vinci Xi, ROSA is more specialized, and was created for knee replacement procedures.
It has the ability to make an already good operation more precise, said Dr. John T. Williams Jr., total joint replacement specialist of the Advanced Orthopedics Institute and chairperson of surgery at the hospital.
"The more precise it is, it gives a patient the best opportunity to have a well-functioning knee using their functioning mechanics," he said. "And if it functions better it hurts less."
In knee replacements, the ends of the bone are resurfaced. ROSA's capabilities include giving surgeons a 3D image. Everyone's bones are different, so this allows patients to have a more personalized procedure.
With some other systems, surgeons have less ability to use their skill because the computer controls the cutting devices. The surgeon-developed ROSA system allows Williams, who has more than 20 years of experience, to get feedback during the procedure.
It's one of the more recent systems that's come out, he said, and it was able to piggyback off the information gathered from other robotic systems.
ROSA was created by Zimmer Biomet, a healthcare product company. Last year, it saw a 25.9% net sale increase in the product category that includes its orthopedic robotic capital sales and services.
The system went into use in January at the hospital. About a month later, Williams said they had already seen positive results. Patients seemed to be healing faster, were in less pain and showed a faster range of motion and functionality.
Williams said he was glad they were the first hospital, and he the first surgeon, to bring the new technology to The Villages. You can do surgery without it, he said, but it helps forward the practice of knee replacements and helps patients heal faster.
"Our goal is to have everybody heal as fast as possible all the time," he said.
Designing a Robotic Support System
But it's not just our physical health that robot designers are tackling — it's our emotional health, too.
That brings us to Ginger. Ginger, with her fluffy fur and sweet expression, is an adorable golden retriever pup.
She's also a robot.
And when Ginger is carried to someone at the Day-Break Club of The Villages, perhaps dressed in her purple Alzheimer's Association bandanna or a sparkly holiday costume, she's a hit.
"Just to see the smiles on the Day-Breakers' faces when they see her or hold her is great," said Gini Cronauer, a volunteer and Ginger's owner.
The Day-Break Club supports adult Villagers with special needs and their caregivers. It allows them to participate in supervised recreational activities, including meet and greets with Ginger, a Joy For All robotic companion pet created by Ageless Innovation.
Ginger doesn't walk around, but she has sensors in her head, cheeks, mouth and back, according to the company's care guide.
So, when Day-Break club attendees pet her head, she gets excited. She even starts snoring when left alone for too long, not something that happens much at Day-Break.
A lot of the caregivers, once they've seen Ginger, have gotten robotic dogs or cats for their loved ones, said Cronauer, of the Village of Duval.
 Many innovations like Ginger are finding their way onto the market. Most follow the same concept of social support and loneliness relief, said Mamoun Mardini, assistant professor at UF's Department of Health Outcomes and Biomedical Informatics.
Robotic pets can be effective for alleviating loneliness in older adults, a concern that isn't limited to pandemic-induced lockdowns. Socially-isolated individuals are at high risk of developing cognitive decline over time, and it can have other negative health affects too.
"Having a robotic pet can give them the benefit of companionship, and, at the same time, they don't have to worry about this pet if they move to another living environment," Mardini said. "They don't have to worry about transportation or feeding them or leaving them alone at home."
But, when it comes to support robots, some manufacturers hold higher ambitions.oyota launched Humanoid and i-foot in 2005 and Robina in 2007. Humanoid could play instruments, according to Toyota, and seniors could ride in i-foot's shell-like cabin. Robina could carry objects and hold a conversation.
The hope is these kinds of innovations can help ease a rising global caregiver problem.
The U.S. Bureau of Labor Statistics predicts the field for professional home health and personal care aides will grow 33% from 2020 to 2030, much faster than average. Demand isn't the only problem, though — it's a lack of people willing to do the challenging job. The median pay was only about $27,080 in 2020. Although many loved ones do the job for free, even the most dedicated caregivers can find themselves overwhelmed.
It's why groups like the Day-Break Club exist, to help them.
A huge shortage of caregivers likely is coming, said Jeff Johnson, AARP Florida state director. People are going to be looking for options to remain independent or to take care of loved ones, especially in places such as Florida that don't have a robust system of home and community long-term care.
As a solution, robotic caregivers doesn't sound too far-fetched. There's already a lot of domestic robots on the market. At CES 2022; the annual Consumer Electronic Show put on by the Consumer Technology Association in January, exhibits included a robotic chef and new cleaning robot.
That same month, Tapomayukh Bhattacharjee, an assistant professor at Cornell University, and his lab began receiving funds from a four-year, $1.5 million grant from the National Science Foundation's National Robotics Initiative. The grant will support the development of assistive robots to help feed those who can't do so themselves.
So, a match made in heaven, right?
Johnson believes robotic caregivers and other technology are good things — to the extent they can extend human caregivers' reach. Like so many robots, cost can be a barrier. While Ginger costs about $139.99, robot caregivers could be more expensive.
Then there's the emotional side. Experts on isolation and loneliness say we're biologically wired to need human connection, Johnson said. The same goes for pet ownership. There are circumstances where owning a live pet is impossible, Johnson said, but many people feel owning a pet gives them a connection with another living being that can be purposeful and rewarding. "It is a source of love and affection that people are wired to need," he said.
Ultimately, he said, people will still need human touch and interaction.
That human touch is also necessary in other robotic areas, even where humans fear of being replaced.
Bolstering the Workforce With Robots
A blue screen rises and a robotic arm dips down. Light flickers behind the screen, the buzzing barely audible through employees' protective earplugs.
A moment later the screen rises, and a diffuser is ready for the next stage of its journey at Metal Industries' Bushnell facility.
In a typical day, this happens 850 times.
Metal Industries builds commercial air distribution equipment. One of its products is the 5700 Diffuser, a common feature in commercial spaces.
Each diffuser needs eight welds — welds made by robots.
"It's one thing to have to train people on how to weld, then the quality of their welds varies when it's a person," said Jim Stafford, a maintenance manager at Metal Industries. "The robot does the same thing every time."
The possibility of a robotic workforce has always posed advantages. Robots can take on tedious or repetitive work, are stronger and don't need lunch breaks.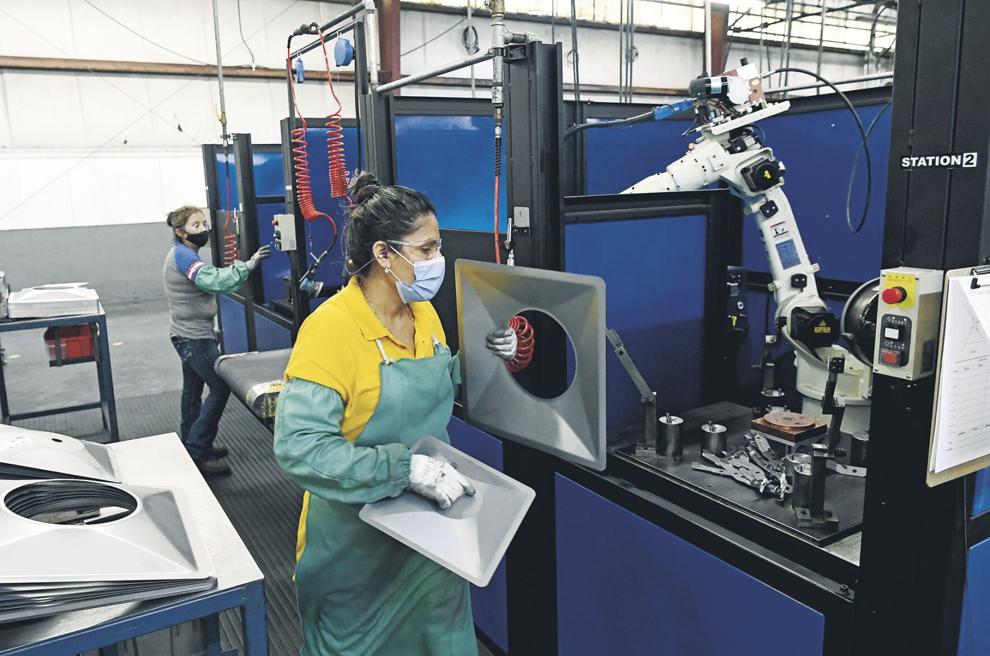 There's also the labor supply issue. High school and tech school level students aren't really going into trades like welding or metal working, said Chris Bohmann, plant manufacturing engineer at Metal Industries.
"It's just not a common career path now," he said. "Those types of positions working in a factory are going to become harder and harder to fill."
And robots have come a long way over the past few decades, some rising to the level of Amazon's warehouse robots, which zip around with goods by themselves.
With more computing power, robots have become better at planning, making decisions and assessing their environment quickly using information based on sensors and cameras, said Carl Moore Jr., associate professor of mechanical engineering at the Florida Agricultural and Mechanical University-Florida State University College of Engineering.
These newer models know exactly where they are, and how to move from point A to point B, said Eric Du, associate professor at UF with the Department of Civil and Coastal Engineering.
It seems easy, but it's extremely difficult to do, he said. It requires a lot of calculations, algorithms and sensors.
They have to consider the optimal path, as well as not interfering with other robots and paths. Imagine a warehouse as a small city, Du said, complete with traffic.
Robots are expensive, but the pandemic gave companies a shove. Suddenly there was a situation where you couldn't have people in close quarters in manufacturing.
That's made a robotics push look more economically feasible, Moore said.
Looking forward, factories could receive a boost from smart technology, allowing machine-to-machine communication, said Sam Ajlani, a College of Central Florida associate professor and program manager for the engineering technology programs. There are other benefits, including reducing errors and increasing efficiency.
So what about the humans left without jobs when factories upgrade? It's something roboticists, engineers and scientists have to be concerned about, because that's their community, Moore said.
Even so, Moore and Du don't see any major changes happening immediately.
What is happening is people are getting used to robotic co-workers. Sensor advancements have allowed some robots to work safely side-by-side with humans.
"The safety factor has always been a huge one," Moore said. "As we get new ways of dealing with that, that just opens up many new avenues for growth in robotics."
The partnership isn't always perfect, but it's possible and necessary.
At the Bushnell facility, robots still operate under the supervision and in tandem with human operators.
Truly autonomous robots are still limited. Most critical actions, even for highly automated industries, are still taken by humans, Du said.
"Robots are really good at repetitive work and operations, but humans are really good at predicting and solving unexpected problems," he said.
His personal projection is that this is a spiral evolution. As robotic technology advances, new opportunities and roles for humans will open up.
The human labor force and robots, Du said, basically are advancing each other.
When looking to the future, Moore said the hope is for some developments to happen slowly enough that young people will go into fields that support robotics growth.
It's a consideration for the workforce of tomorrow, the students of today.
Teaching the Next Generation Robotics
In May 2021, Wildwood Elementary School's cafeteria was a cacophony of triumphant voices and shoes smacking the floor. Several children were guided through STEM activities, while others trooped to the stage to stand, fiddling with their face masks and beaming, in front of their Lego creations.
When the Master Play Makers team was asked what the hardest part in their project was to build, it was unanimous: "the treadmill!"
The team had coded and built a robotic treadmill. After the presentation, London Brooks, then 10, said shyly that "we lost a lot of pieces."
Wildwood Elementary's Lego League Jr. Expo was the culmination of a lot of hard work on the part of the students. The elementary's after-school league targets students in the second and fourth grades.
The league has six core values: discovery, innovation, impact, inclusion, teamwork and fun, said Katherine Palazzo, teacher on special assignment for elementary math and science.
"Many of these kids have seen Legos just as building pieces, but then when we add that Lego League Jr. aspect, they're seeing that they can create a robot," said Palazzo, who coordinates the expo. "There's more than just building a building."
There are different themes each year, and 2021's was play makers.
Four teams created small Lego builds that, for the most part, looked like anything a child might build on a rainy Sunday afternoon, but with a robotic element and a problem to solve. But there were a two wrinkles: the robotic element, of course, and a problem to solve.
Children had to create a playground where people with disabilities could play, as well as those without.
While some of the children at the expo paused, nervous, to answer judges' questions, there wasn't much hesitation when it came to grabbing a tablet to activate their creations.
Robotics classes are now part school's curricula at multiple levels, and teaching robots are used at home and in the classroom. Students with a more competitive edge might even have opportunities to join groups such as the Computer Science Club's robotics team at The Villages High School.
And that's important. Because of the widespread use of automation, it's critical robotics are taught in school, and every child has access, said Kathleen Schofield, executive director of Northeast Florida STEM2 Hub.
While robotic lessons can do more than open the door to future employment — Schofield said when children program or code they're taught algebraic thinking to prepare for later in life — it's definitely a consideration.
Businesses hope the workforce will be prepared for an automated work environment where robots are embedded in the workplace doing repetitive and manual tasks, she said. Having robots perform those tasks will free the human brain to do what humans do best — collaborative problem-solving.
Sound familiar?
As students get older, the work that goes into that effort can get more complex, like that done by robotics major students at the Robotics, Automation & Design (R.A.D.) Academy, a magnet at Belleview High School.
R.A.D. Instructor Dale Toney's lab looks like it's one part shop class, one part computer lab and one part magician's cave. The walls are lined with a 3D printer, seven robotic arms, drones and other creations.
He uses Lego kits to help introduce students to robotics, but the emphasis is on hands-on projects and certifications.
Toney doesn't have kids in the program who are going to necessarily build robots, though. The main thing is programming and fixing them, he said.
"That's where most of these jobs are going to come from," he said.
The BLS records multiple jobs that involve robotics, and projections vary. But Ajlani and Davis agree there's a growing demand for a workforce capable of working alongside robots.
It can also be an ongoing process. About 80% of Davis' students are nontraditional and are in school for additional training for a promotion or because they want a career skill.
Toney's students have an eye on the future. To celebrate students' dedication, the room sports talent boards displaying pictures of students with stickers denoting certifications.
"I had to add another one to have room," he said. "That's how good these freshmen are."
The second one's about half full right now.
With robotics continuing to evolve, those skills won't be wasted.
Specialty Editor Leah Schwarting can be reached at 352-753-1119, ext. 5375, or [email protected].

link