The International Medical Informatics Association, a special interest group on nursing informatics, says informatics nurses integrate the practice of nursing into health systems to "promote the health of people, families, and communities worldwide." 
With the ever-changing technological advancements in all facets of healthcare, nursing informatics is an exciting field. This guide will explain the informatics profession and how it directly impacts health outcomes. We will also discuss education requirements, salary expectations, career outlook, and how to become an informatics nurse. 
Keep reading to learn how you can join this growing nursing specialty. 
Informatics nurses are registered nurses (RNs) who work at the intersection of technology and nursing. Nursing informatics is a nursing specialty combining nursing, communications, computer science, and information science knowledge.
Nurses who hold nursing informatics jobs use their clinical backgrounds alongside their computer and organizational skills. They analyze and develop the health systems nurses use in clinical settings.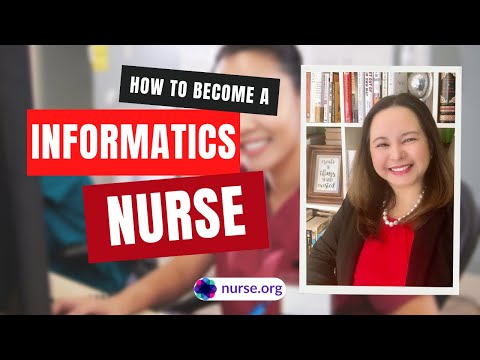 Here are some interesting statistics about nursing informatics from the 2020 HIMSS Nursing Informatics Workforce Survey:
20% of nurse informaticists have more than 20 years of clinical experience, compared with 30% in 2011
63% stated they earn a base annual salary between $61,000 and $115,000
66% increase in individuals with a master's degree 
Certification took a significant jump from 49% in 2017 to 58% in 2020
Nursing informaticists with a higher level of formal education have higher salaries
Over two-thirds (68%) of respondents work for a hospital or multi-facility health system
Nursing Informatics Jobs
There are many careers available for nursing informaticists. Some of the job titles they may hold are:
Chief Information Officers
Chief Nursing Officer
Clinical Analyst
Clinical Informatics Nurses
Clinical Specialist
Health Informatics Officer
Informatics Nurse
Nursing Informatics Specialists
Why Do We Need Informatics Nurses?
Nursing informaticists improve health systems which can improve health outcomes for patients. 
These nurses work to develop communications and information technology systems while also serving as educators, specialists, researchers, and software engineers. 
Now is a great time to become an informatics nurse because of the growing emphasis on controlling healthcare costs. Nursing informatics can help rein in healthcare costs at hospitals and other medical facilities. 
Show Me Nursing Informatics Programs
Though the exact job description of an informatics nurse will vary by workplace, the American Medical Informatics Association reported that the core responsibilities of an informatics nurse include the following:
Advance public health by influencing healthcare policy
Contribute to the construction of an interoperable national data infrastructure
Encourage evidence-based best practices, education, and research efforts
Improve interpersonal workflow through communication and information technologies
Manage and create a vision for communication and information technology development, design, and implementation
Use methods of information retrieval and presentation to improve patient safety
Other responsibilities may include:
Develop information systems based on current evidence-based standards of care 
Ensure health information systems remain updated
Educate staff on changes to electronic health records
Manage the transition from paper charting to electronic medical charting
Work with policymakers/government agencies to ensure laws support healthcare technology
Work with policymakers/government agencies to ensure laws are compatible with provider and patient needs
Skills Needed for a Career in Nursing Informatics
Communication
Computer programming
Critical thinking & problem-solving
Interpersonal skills like empathy and conflict resolution
Knowledge of health data systems
Project management
RNs earn a median annual salary of 77,600 per year or $37.31 per hour, according to US Bureau of Labor Statistics (BLS) data. However, the BLS doesn't separate nursing informatics salaries from other RNs. Reported informatics nurse salaries vary widely across different platforms. 
For example, Glassdoor data reveals an average annual median salary of $155,231 for informatics RNs. Yet, Payscale reports an average yearly wage of $82,875 or $36.42/hr. 
Moreover, the HIMSS 2020 Nursing Informatics Workforce Survey found that 49% of informatics nurses earn over $100,000 annually. That's up 4% since 2017 and 16% since 2014.
>> Related: Nursing Informatics Salary Guide
Highest Paying States for Informatics Nurses
ZipRecruiter found the highest annual salaries for informatics nurses in the following states:
Wyoming – $107,978
Arizona – $107,895
Tennessee – $105,354
New Jersey – $104,785
Hawaii – $104,703
How to Increase Your Salary as an Informatics Nurse
Informatics RNs can earn a higher annual salary with increased years of experience. Glassdoor discloses nursing informatics annual salaries by years of experience as the following:
Less than 1 year: $90,245
1-3 years: $94,018
4-6 years: $107,672
7-9 years: $119,960
10-14 years: $133,982
15 or more years: $145,103
Your earning potential as an informatics nurse also increases with continued education. Nurses in many health systems also get raises during annual employee performance reviews.
Furthermore, a nursing informatics certification will help you earn more as an informatics nurse. Many higher-paying nursing informatics jobs require you to hold this certification and have a few years of experience before considering your application.
Show Me Nursing Informatics Programs
To become an informatics nurse, you'll need to complete the following steps:
1. Attend Nursing School
While some employers will hire tech-savvy BSN-prepared nurses for informaticist jobs, there is an increasing demand for nurse informaticists to have a master's of science in nursing degree (MSN). Some also earn their doctorate, though it isn't required.
ADN-prepared nurses can complete a BSN degree or enter an accelerated RN to MSN program to meet this nursing informatics requirement. Check out the top nursing informatics programs to get started on your education requirements.
2. Pass the NCLEX-RN
Become a registered nurse by passing the NCLEX-RN examination.
3. Gain Bedside Experience
Bedside experience is essential for informatics nurses because it allows them to understand the equipment and its uses within the organization. Furthermore, it will help the nurse become familiar with electronic medical record systems and their processes. 
4. Earn Your Certification
Offered by the American Nurses Credentialing Center (ANCC), the Registered Nurse-Board Certified (RN-BC) certification is ideal for nurses looking for advanced certification.
Informatics nurses are in demand, but the best jobs will still have some competition. Make your resume stand out with these tips for starting your nursing informatics career:
Become a Super User
Nurses comfortable with technology can become super-users within their clinical departments or facilities, gain expertise with new systems (such as EMRs and EHRs), and help to train and mentor other nurses who need support.
Such tech-savvy nurses can also volunteer for their employers' informatics departments and participate in studies, training, and research, exposing them to expert knowledge and skills. 
In this way, nurses can become more familiar with the tools of this specialty before starting a nursing informatics program.
Network
Networking should be central to getting to know other healthcare informatics experts. By networking with those who understand this career path, you can keep your finger on the pulse of crucial trends.
Informational interviews, a form of deep networking, can accelerate your process by allowing you to tap the knowledge of people in the know. Informational interviews can reveal recommendations for certifications, master's degree programs, best practices, and ways to improve your resume and marketability. 
>> Get Started! Find MSN Programs
Informatics nurses most often work at healthcare organizations or technology companies. However, they can work in various locations, both onsite and remotely. Other organizations that hire informatics nurses include but aren't limited to:
Ambulatory care centers
Counseling centers
Electronic medical record companies
Government or military facilities
Healthcare product companies
Hospital or health systems
Research facilities
Schools or universities
Urgent Care Clinics
As the role of the informatics nurse expands, so will the available work locations. 
Show Me Nursing Informatics Programs
Opportunities for jobs in nursing informatics are exploding thanks to the use of electronic medical records and information technology in healthcare settings. The Health Information Technology for Economic and Clinical Health Act (HITECH) in 2009 and the Patient Protection and Accountable Care Act (PPACA) in 2008 increased the need for technology-based nurses.
Responding to these trends, the Advance Healthcare Network for Nurses estimates that as many as 70,000 health informatics specialists will be required within the next few years. The BLS also projects that medical and health services managers will grow by 28% by 2031, indicating a steady growth and positive career outlook for informatics nurses.
Show Me Nursing Informatics Programs
Like any other nurse, an informatics nurse must follow their state's guidelines for RN license renewal. In most states, this process includes applying for renewal, completing continuing education competencies, and paying a fee.
To know which standards you must meet for renewal, check with your state's board of nursing. You can also find a detailed analysis of RN continued education requirements here.
ANCC Nursing Informatics Certification Renewal
Informatics nurses have the additional responsibility of maintaining their RN-BC certification. The ANCC requires you to renew this credential every five years after completing specific continuing education requirements.
Check out these related articles and organizations to learn more about the nursing informatics profession.
Read next:
Check out these organizations:
Show Me Nursing Informatics Programs
Informatics nurses with graduate degrees can easily become nurse administrators or nurse educators. Some who focus on information technology become chief information officers or information technology nursing advocates in their respective organizations. Some other related nursing specialties for informatics nurses include:
Research Nurses
Research nurses often work for colleges, universities, private organizations, or corporations. They use the scientific methods they learned in nursing education and practice to collect and analyze data. One of their most important roles is evaluating the impact informatics creates when it intervenes in health practices as well as outcomes.
Consumer Needs Consultants
Consumer needs consultants are RNs who help deliver health information to consumers via the internet and other electronic media. Informatics training is vital to address health promotion, patient-centered care, disease prevention, and self-care. These nurses also integrate consumer preferences into information systems, assess what is needed regarding health information, and improve programs such as telemedicine and telemonitoring.
Public Health Nurses
Public health informatics is an emerging field with many opportunities. Public health nurses can use an informatics background to collect and analyze epidemiology information for the public, other healthcare professionals, and policymakers. Among practical applications are maintaining immunization registries and public health surveillance systems. 
Nursing Informatics and the Future
Nursing informatics incorporates knowledge of multiple disciplines. As an informatics nurse, you'll impact patients, the public, and healthcare professionals. Candidates with a mix of nursing, information technology, communication, and organizational skills are in high demand for jobs in this field.
There's no doubt informatics is here to stay. Nurses who love computers, information systems, and data management would be wise to plug into this specialty and leverage those skills and experiences for an exciting and well-paying nursing career.
RN
$70,000 – $90,000
Bachelors
Masters
Informatics
Non-Bedside
link