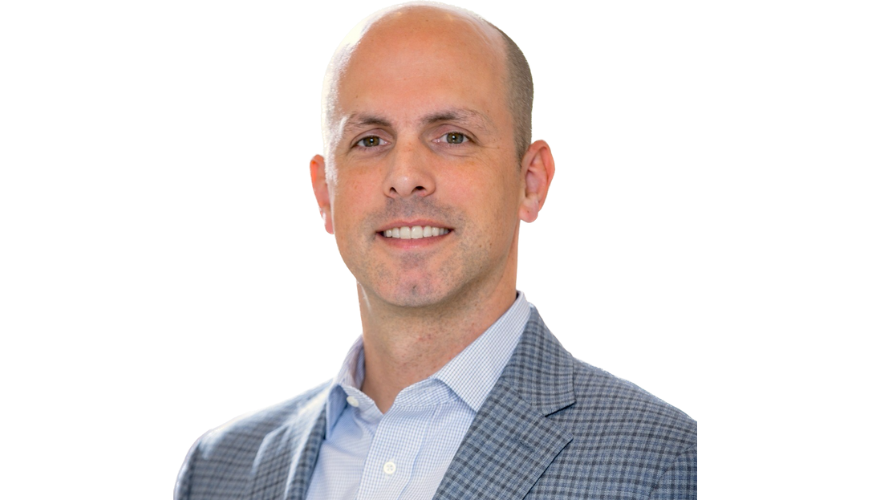 As thousands of Americans watched in shock and horror as the terrorist attacks unfolded on Sept. 11 2001 in New York, Washington D.C., and Pennsylvania, one young man, like many others, was deeply impacted by the tragic events.
Josh Wymer (MSPM, MA, MSN, RN, CNOR, RN-BC, NEA-BC, CHCIO, CDH-E, FACHE, FAAN) was among the more than 180,000 who joined active duty in the year after the attacks. He dropped out of nursing school and enlisted in the U.S. Navy. The terrorist attacks had served as a catalyst that launched his military career and solidified his commitment to service.
"I kind of upset my parents," Dr. Wymer recalls with a laugh, reflecting on his enlistment. "I knew that education was the way forward for anyone. Every time I had a chance to either leave [the Navy] or go forward, another opportunity was presented to me, whether it be education or a new role. My career in the Navy ultimately snowballed."
Though he never planned to make the Navy a career, Dr. Wymer quickly moved up through the ranks. In five years, he earned his commission in the Nurse Corps.
Throughout his time in the Navy, Dr. Wymer sought out challenges that allowed him to grow. He served as a MedSurg, ICU, ER, and clinic nurse, an educator, and even worked with the elite Navy SEALs. The SEALs are known for the 2011 raid that resulted in the death of Osama bin Laden, the founder of the militant Islamist organization al-Qaeda who claimed responsibility for 9/11 terrorist attacks.
Dr. Wymer's thirst for knowledge and innovation was unwavering. While deployed in Afghanistan, he pursued his first graduate degree, a Master of Science in Project Management, completing it online through Granite State College while overseeing surgical services with the Multinational Medical Unit, Kandahar, Afghanistan. After returning stateside, he earned a second graduate degree, a Master of Arts in Enterprise Strategic Planning from the U.S. Naval War College in Newport, Rhode Island.
"The many steps of my professional journey are what brought me to the University of San Diego (USD). I was contacted by a senior military executive in Washington D.C. saying that he had a huge health IT project coming up. He said, 'If I had to pick somebody, I'd pick you, but I need you to go get that degree first.'"
Dr. Wymer attended USD from 2017 to 2019 as part of the Duty Under Instruction program for U.S. Navy Nurse Corps officers. The program allows officers to attend graduate and fellowship programs "providing the necessary preparation to meet critical education and training needs." During this time, he received his third graduate degree, a Master of Science in Nursing Informatics from USD's Hahn School of Nursing and Health Science.
One individual who played a crucial role in Dr. Wymer's success at USD was Associate Professor Jonathan Mack, director of the Hahn School of Nursing's Informatics Program.
"Dr. Mack had been in the informatics space before it became a buzzword. He was on the cutting edge, yet remained a relevant, practicing clinician," Dr. Wymer explained. According to him, Mack exemplifies USD's nursing faculty, who don't just set students up for success beyond graduation, but also participate in shaping healthcare's future.
After graduating from USD, Dr. Wymer continued his pursuit of education, earning his Doctor of Nursing Practice in Executive Leadership at John Hopkins University. His doctoral work focused on the impact of certification in early career clinicians' practice settings, with other contributions in health information systems, cybersecurity, and new product development.
After 21 years of naval service, Dr. Wymer retired as a lieutenant commander, leaving behind a legacy as an accomplished nurse, clinical operation leader and health information executive. Today, he serves as a Clinical Associate Professor for USD's nursing school and holds key roles as the Founding Chief Clinical Officer for Shifthive, Inc., Co-Founder of MedicalMatch, Inc., and Principal Consultant for Apex Leadership Solutions.
"It's very exciting to know individuals are still deciding what healthcare will look like in 10 to15 years. Scrappy, innovative startups — not just big corporations — will shape the future," he says.
Though Dr. Wymer has prepared for his transition out of the Navy, the process has still involved an adjustment period. "It's one of the most stressful things you'll ever go through. You're seeking new work, moving and dealing with stereotypes all at once."
He emphasized the importance for veterans to truly understand their own skills and goals during this transition. "Veterans have so much to give, but we must be sure not to shortchange ourselves and the impact we can make after service," he says.
Although, Dr. Wymer quips that the only thing he misses about the military is looking sharp in uniform rather than pajamas, it's clear his service in the Navy instilled lifelong gratitude.
"I'm grateful for having served," he says. "I lost a few friends and many people have paid the ultimate sacrifice. I am beyond fortunate to have been afforded an opportunity to do my part, but many have and will continue to do so much for all of us."
As Dr. Wymer looks to the road ahead, he remains dedicated to lifelong learning, thought leadership and making a difference in the ever-evolving landscape of healthcare. His journey is a testament to the resilience and dedication of those who have served the United States and continue to shape its future with their innovative contributions.
— Kelsey Grey '15 (BA)
link