Work-from-home nursing jobs, also referred to as remote nursing jobs, are any nursing career that can be done away from a hospital or healthcare setting.
A 2021 Mckinsey survey found that over 40% of frontline nurses delivered virtual care in 2021.  The nurses who had the highest reports of virtual care were ambulatory and home care nurses.
They also found that more than two-thirds of frontline nurses would be interested in virtual roles. If you're one of those nurses, you've come to the right place! We've put together a list of 10 remote nursing jobs for 2023.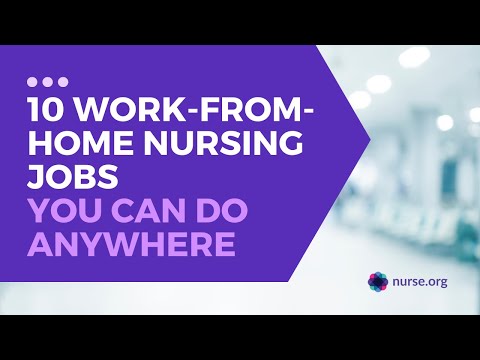 1. Case Management 
Nurses are in high demand when it comes to case management positions. In this role, you will be responsible for handling long and short-term disability claims for patients. You will need to collaborate with physicians, employers, and insurance companies to help facilitate communication and ensure compliance among all the parties involved.
Ultimately, your goal is to help coordinate treatment and funding so that a return-to-work goal can be established and met.
Since most of your work can be done over the phone or through email, case management is a perfect work-from-home position for skilled and experienced nurses who are familiar with the healthcare industry.
>> How to Become an RN Case Manager
2. Insurance Claims 
Making the transition from caregiving to working as an insurance claims specialist can be more natural than you might think. And working for a health insurance company can allow more job flexibility.
Health insurance companies need people with health care knowledge to examine and investigate claims to determine whether or not certain procedures are covered. They also work to decide how much money the insurance company is required to pay for each claim.
Healthcare professionals already have this knowledge, and nurses are also familiar with medical records, treatment plans, and other details insurance adjusters aren't typically familiar with. 
Your background in nursing will help you to make informed decisions in the best interest of the patients, medical providers, and insurance companies. And, of course, you can work at home.
Show Me Nursing Programs
3. Telephone Triage Nurse
Busy medical facilities and doctors often run triage by telephone. This allows highly qualified nurses to speak with patients, assess their symptoms, and recommend the best course of action before they show up to receive healthcare services.
Nurses in triage can often answer patient questions, preventing unnecessary visits and keeping other healthcare professionals and support staff focused on the patients in the clinic. 
The telephone triage system helps handle less urgent problems more efficiently so that resources are appropriately distributed. Tele-nurses can work at home and still contribute directly to patient care. They provide valuable medical advice to patients with a wide variety of problems.
Of course, you'd need nursing experience in a clinical setting before taking on this home nursing job. Some clinics hire both BSN and ADN nurses.
And you can also think beyond your local medical clinics and hospitals when searching for these kinds of nurse jobs. Some national companies like CVS Pharmacies hire telephonic nurses to help their customers.
>> How to Become a Telephone Triage Nurse
4. Health Informatics
This exciting new branch of healthcare is using technology to improve patient care and create a better healthcare system. Informatics works to find innovative intersections between technology, communication, and healthcare systems in order to move the entire industry forward.
If you are interested in changing the system by developing and implementing new solutions, then you may be able to put your nursing degree to good use in health informatics. 
Because the field is constantly evolving and taking shape, there is plenty of room to grow, explore your interests, and help create your position. 
As an informaticist, you could serve as a nursing consultant to give a nurse's perspective on new technology systems. You could help build databases to track patient outcomes. You could even write computer programs to help other healthcare professionals better serve patients.
You'd need at least a bachelor's degree, but most employers prefer nurses with master's degrees. More and more informaticists have doctor of nursing practice (DNP) degrees.
>> How to Become an Informatics Nurse
5. Call Center Nurse
While telephone triage and call center nurses are closely related, a call center position doesn't require as much nursing experience.
A home-based call center nurse will be in charge of direct calls to the appropriate parties, but he or she won't be responsible for direct patient care. 
Essentially, this is more of an administrative role than a telemedicine role, but medical and healthcare companies will give candidates with medical backgrounds the edge when it comes to hiring. 
Keep in mind that fewer responsibilities also means lower pay.  
6. Freelance Nurse Writer
Medical writing is a challenging field that requires extensive knowledge of medical terminology and procedures along with strong writing skills.
Many nurses who enjoy writing have found freelancing to be ideal for remote work.
It also serves an important purpose: The medical field relies on a variety of well-researched materials that are used among professionals and published and distributed to the general public. 
Writers may be tasked with putting together promotional materials, journal articles, press releases, and much more.
Businesses today rely heavily on website content and online news stories to connect with potential customers and promote their goods and services. An experienced medical writer can be an essential part of a successful medical website, facility, or drug manufacturer.
7. Nurse Educator
Because nurses have busy schedules — both at work and often at home, too — more and more colleges and universities offer classes online, especially LPN-to-RN and ADN-to-BSN programs. Some universities even offer nurse practitioner degree programs online.
>> How to Become a Nurse Educator
Now, because of the COVID-19 pandemic, many nursing classes that would be held on campus have moved online. So there's even more demand for nurse educators within education and licensure programs. 
Teaching isn't for everyone, but as a nurse educator, you could have a huge impact on the profession by helping make sure students enter the workforce armed with the skills and knowledge all nurses should have.
Institutions of higher education throughout the United States have busy nursing degree programs, but they also have different educational requirements for faculty members. Some community colleges may hire nurse educators who have only a bachelor's degree, while others require master's degrees to teach.
Show Me Nurse Educator Programs
8. Legal Nurse Consultant
Nurses who want to apply their experience in another profession may want to consider becoming a legal nurse consultant.
Nurses who work for law firms help attorneys and paralegals understand the medical angle of personal injury and other kinds of lawsuits. They can also help with Medicare and health insurance lawsuits.
Since you could do most of this work via Zoom or cellphone, this is an ideal remote nursing position that extends beyond the clinical setting.
>> How to Become a Legal Nurse Consultant
9. Nurse Recruiters
All nurses know the importance of proper unit staffing. As a nurse recruiter, you could help hospitals keep adequate staffing levels which helps bedside nurses provide the best care possible.
And, of course, this is an ideal role for the stay-at-home nurse. Some hospitals have their own nurse recruiters, while others use third-party recruitment services.
Most nurse recruiters interview candidates and act as a liaison between the unit and the candidate during the hiring process. 
In normal times, you'd probably attend job fairs and visit nursing schools to recruit candidates, but because of the COVID-19 pandemic, most of these events have gone virtual.
Like nurse educators, healthcare recruiters can help shape the profession by finding qualified applicants for hospitals, doctor's offices, and even home healthcare providers.
Show Me Nursing Programs
10. Clinical Research Nurse
Many healthcare facilities and teaching hospitals have clinical research programs. These programs help medical professionals gather research to develop new medical treatments and help practitioners learn more about disease prevention. 
Clinical research is a great way for clinicians to help develop life-saving medications, treatments, and vaccines. They help develop and facilitate studies to provide information about new medical procedures and medications.
Some of the research-related tasks that a remote clinical research nurse performs may include:
Overseeing clinical trials
Recruiting trial participants
Educating and training research staff
Administering questionnaires to clinical trial participants
Writing grant applications
Speaking with clinical trial participants to explain procedures and listening to concerns
Keeping detailed records with electronic medical records (EMR)
Writing articles and researching reports
Nurses no longer need to commit to a career in bedside nursing or home care positions. 
Now, registered nurses are in demand in many different sectors of the economy, including the legal, technology, and insurance professions – many of which also offer work-at-home positions.
You don't have to work in a hospital or medical office to provide valuable care for patients and earn a competitive wage. And with the growing demand for telehealth due to COVID-19, there are more remote job opportunities than ever before.
If working from home as a nurse is something you aspire to do, you have many options! It is possible to provide quality nursing care and enjoy a flexible schedule where you can work from home.
>> Want to see open nursing positions? Check out the nurse.org job board!
link