RCBJ-Audible (Listen For Free)
Pyramid Management Group Turns Eye Toward Residential Projects; Company Is Considering Housing at Palisades Center in Nyack
Pyramid Management Group, the company that operates the Palisades Mall in West Nyack, has been shoring up the finances of its malls, including Destiny USA in Syracuse. Farther south in New York State and Massachusetts, it's turned its attention to residential projects to bring traffic to its centers.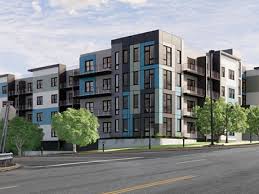 The Syracuse-based company last month welcomed the first residents to a 282-unit apartment complex adjacent to its Kingston Collection on Massachusetts' Plymouth Bay. Now it will do the same to stimulate traffic at Galleria at Crystal Run in Wallkill in the Hudson Valley.
Pyramid is working with Eliviat Group, a residential developer, to build a 224-unit market-rate residential complex on a five-acre parcel directly across from Galleria. The $40 million project is scheduled to break ground later this year and be ready to open in June 2024.
The four-story apartment complex will have a direct walkway connection to the Galleria, underground parking, and an acre of recreational space with a patio and pool for barbecues.
"This is really just the beginning of a much broader, portfolio-wide diversification strategy to bring exciting new uses into the mix with our existing assets. Staying ahead of the curve is the key to our success and resilience as a company," said Pyramid CEO Stephen J. Congel in a press release announcing the Galleria project.
CBRE retail real estate experts have stated that residential and retail properties situated next to each other develop a symbiotic relationship that's beneficial to retail tenants.
---
ON THE BERGEN BORDER: Mixed-Use Development Continues To Evolve At Former Mercedes Benz Site In Montvale
The S. Hekemian Group on Tuesday cut the ribbon for The District, the luxury multifamily residential component of its mixed-use North Market neighborhood in Montvale on the former Mercedes Benz site.
The District will include over 300 apartments in two buildings that flank a 50,000 square-foot office building. The first building, located at 100 Market Street, is nearly 50 percent leased, according to SHG.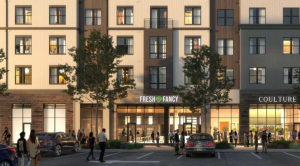 "This milestone marks an exciting chapter in the ongoing evolution of North Market," Hekemian said. "In developing The District, our goal was to create a one-of-a-kind multifamily offering that brings a new level of luxury apartment living to Bergen County and complements the surrounding neighborhood of eateries, experiences, shopping and lifestyle services. The extraordinary pace of leasing activity certainly validates that The District is truly something special."
The developer plans to complete the second residential building at 300 Market Street in September.
North Market is part of  the reimagined 32-acre former Mercedes-Benz USA North American headquarters campus. An office component, Workplace North Market, opened in 2021 and is nearly at 100 percent occupancy.
At the north end of the North Market site, SHG is developing an 86,000-square-foot medical office building where Valley Health Systems will open a 60,000-square-foot surgical center. The balance of that building will feature street-level retail as well.
The North Market neighborhood, which offers easy access to public transportation, also includes The Farm (The Shoppes at DePiero Farm), an adjacent project by SHG that opened in 2017, and is anchored by Bergen County's first Wegman's supermarket.
---

St. Thomas Aquinas College Now Offering MBA in Healthcare Management and Informatics
St. Thomas Aquinas College (STAC) is now offering a Master of Business Administration (MBA) in Healthcare Management and Informatics.
Offered within the college's School of Business, the MBA in Healthcare Management and Informatics is designed to prepare students for the growing healthcare industry. According to the Bureau of Labor and Statistics, employment of medical and health service managers is projected to grow 32 percent from 2020 to 2030, faster than just about any other profession.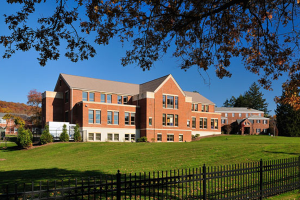 The MBA program is accredited by the International Accreditation Council for Business Education.
The new Healthcare and Informatics concentration adds to the college's other MBA options, including a general MBA that can be completed in-person or exclusively online. Other areas of MBA concentrations offered include Management, Finance, Marketing, and Sports Administration.
This new concentration offers a blend of healthcare management, informatics, finance, health information management, and law and ethics coursework. The health informatics field aims to develop methods and technologies for the acquisition, processing, and study of patient data, which comes from different sources and modalities, including electronic health records, diagnostic test results, and medical scans. Graduates will be able to analyze, interpret, and present healthcare data to healthcare organizations, so that it can be used to develop strategic plans and support organizational compliance.
Designed with the working professional in mind, the program offers evening, weekend, and online course options. STAC will also offer a standalone post-baccalaureate 15-credit certificate in Healthcare Management and Informatics.
"We are thrilled to offer this new concentration that will train leaders in this fast-growing healthcare industry," said Program Director Dr. Joseph Charleman. "St. Thomas Aquinas College is the only graduate program in the New York and New Jersey area that prepares graduates in this concentration."
The College is accepting applications for fall 2022 program.
For more information, please visit www.stac.edu/MBAHealthcare to learn more and to register for the Healthcare Management Information Session. Or contact Lorraine Derwin, Associate Director of Admission Recruitment at (845) 398-4149 or email [email protected].

link