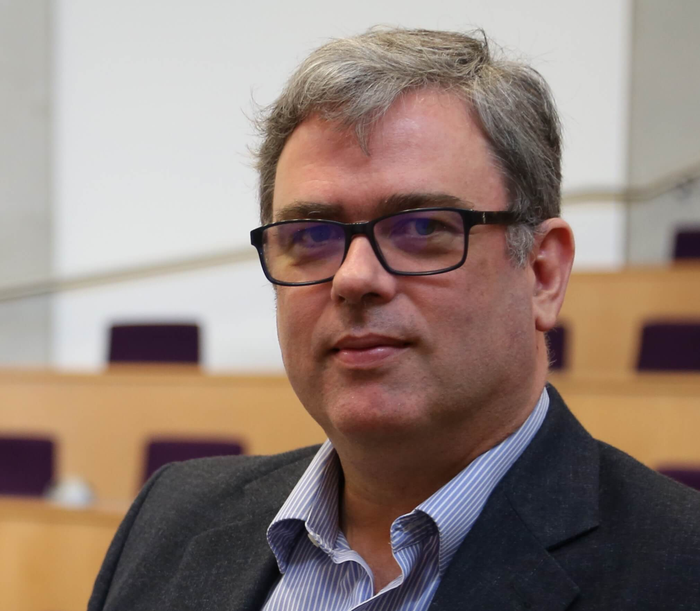 Professor Damien Foster has joined Aston University as Head of the School of Informatics and Digital Engineering in the College of Engineering and Physical Sciences.
British born in Cape Town, South Africa, Professor Foster has lived abroad almost half his life, including research positions at the CEA (Saclay) in France and the University of Pittsburgh and associate professor in physics at the University of Cergy-Pontoise, France. During his time there he was actively involved in curriculum development and pedagogy and he helped set up several degrees, most notably the first undergraduate degree in France in computational physics.
His research lies in the field of statistical physics applied to phase transitions and criticality in magnetic and polymer systems. It also aims to apply the methods of statistical physics to problems related to static and dynamic biological phenomena.
Initially he studied mathematics at the University of Edinburgh but graduated in 1989 with a first-class honours degree in mathematical physics, followed by a doctorate (DPhil) in theoretical physics from the University of Oxford.
He joins Aston University from Coventry University where he was head of school for computing, electronics and mathematics and centre director for the centre for computational science and mathematical modelling.
Research in the School of Informatics and Digital Engineering focuses on the technologies that make the interdependent and interconnected world of today possible. This includes cutting-edge work on smart technologies and environments, optical communications, data, networks and the Internet of Things (IoT), as well as the social and public health implications of these advancement.
The School has also pioneered new ways of teaching the skills that graduates really need. It produced the first degree apprenticeship graduates in the country in 2017, with its BSc Digital & Technology Solutions graduates working in partnership with CapGemini. As a major partner in the government-led Institute of Coding, it works to bring industry, government, higher education and outreach partners together, creating new degrees, developing existing skills and providing support that attracts fresh talent into digital careers.
Professor Foster said:
"I am excited to be joining the College of Engineering and Physical Sciences at Aston University and share my passion for research and teaching.
"I have always been interested in understanding how things worked and I am enthusiastic about sharing my knowledge, which has led me to teach extensively and also to question how to teach and develop new curricula."
Pro-Vice-Chancellor and Executive Dean of the College of Engineering and Physical Sciences, Professor Stephen Garrett, said:
"I am delighted that Professor Foster is joining the College of Engineering and Physical Sciences.
"I'm looking forward to working with Damien; his enthusiasm will help the College deliver practical, industry-relevant teaching alongside applied research that delivers solutions to real world problems."
ENDS
Notes to Editors
Founded in 1895 and a University since 1966, Aston is a long established university led by its three main beneficiaries – students, business and the professions, and our region and society. Aston University is located in Birmingham and at the heart of a vibrant city and the campus houses all the university's academic, social and accommodation facilities for our students. Saskia Hansen is the interim Vice-Chancellor & Chief Executive.
Aston University was named University of the Year 2020 by The Guardian and the University's full time MBA programme has been ranked in the top 100 in the world in the Economist MBA 2021 ranking. The Aston MBA has been ranked 12th in the UK and 85th in the world.
For media inquiries in relation to this release, contact Nicola Jones, Press and Communications Manager, on (+44)7825 342091 or email: [email protected]
Be first to get the latest news, research and expert comment from Aston
by following us on Twitter
Need an expert for your story? Browse our expert directory
---
Method of Research
News article
Subject of Research
Not applicable
Disclaimer: AAAS and EurekAlert! are not responsible for the accuracy of news releases posted to EurekAlert! by contributing institutions or for the use of any information through the EurekAlert system.

link