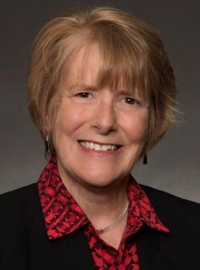 Mankato, Minn. – Minnesota State University, Mankato Interim Provost and Senior Vice President of Academic Affairs Brian Martensen announced that Patricia Marincic (pictured) has been named dean of the University's College of Allied Health and Nursing, effective July 1, after a national search.
Marincic is a professor at Idaho State University and served as the associate vice president of the Division of Health Sciences and director of ISU's health science outreach campus in Meridian (Boise) from 2017-2020. Additionally, Marincic served as the interim co-dean for the College of Health 2020 and was active in the university Covid-19 response.
"Dr. Marincic brings a strong foundation in teaching and learning, student success, academic leadership and community engagement," said Martensen. "Her broad base of experience in administrative roles, ranging from appointments at small private institutions in Minnesota to leadership roles at large flagship universities, has provided her with knowledge of the many challenges and opportunities influencing higher education today."
Under Marincic's leadership, Idaho State University Meridian has undergone significant expansion of academic programming to meet workforce needs of the state of Idaho. Program expansion during her tenure includes the addition of graduate programs in physical therapy, nutrition, clinical psychopharmacology, health informatics, rehabilitation counseling, and homeland security and emergency management. To address critical shortages of nurses in the region, 20 new seats were added to the accelerated nursing program.
Marincic has led the buildout and expansion of infrastructure (approximately $15 million in capital outlay) to support growth in campus enrollment, academic programming, and clinical services.  She has been instrumental in building external partnerships to support program growth, increase clinical training capacity, and advance research initiatives of the University.
In addition to her experience at Idaho State University, Marincic has held academic, administrative and/or clinical appointments at Auburn University, Augsburg University, the College of St. Benedict and St. John's University and the University of Wisconsin. While at Auburn, she was recognized with gubernatorial appointments to the Alabama Health Improvement Task Force and the Health Literacy Partnership of Alabama.
Marincic earned a doctorate in nutrition and food science at Utah State University and completed post-doctoral coursework in pediatric nutrition at the University of Iowa School of Medicine. She earned a master's degree in applied human nutrition from Colorado State University and a bachelor's degree in dietetics from Purdue University.
Marincic will succeed Kris Retherford as dean of Minnesota State Mankato's College of Allied Health and Nursing. Retherford, who has served as dean since August 2012, plans to retire from the University on Aug. 1.
Minnesota State Mankato, a comprehensive university with 14,546 students, is part of the Minnesota State system, which includes 30 colleges and seven universities.
link