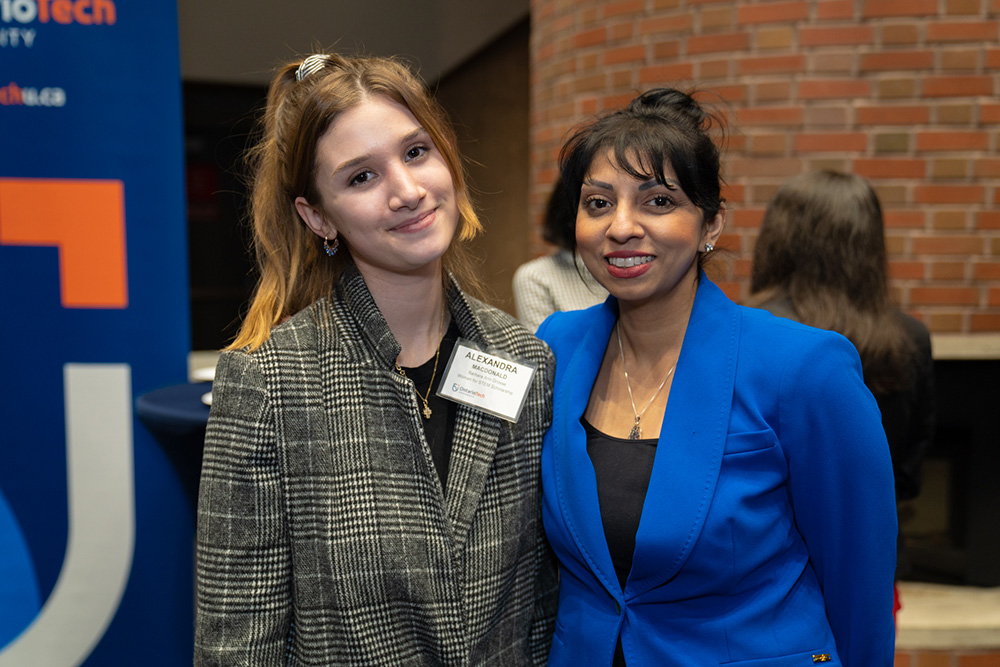 Ontario Tech University's Women for STEM program is a donor-funded initiative led by volunteer industry and community leaders committed to increasing gender parity in science, technology, engineering and mathematics (STEM) careers.
Launched in 2019, the Women for STEM program is built on three pillars: investment, mentorship and celebration. Thanks to the support of our donors, mentors and partners, women students develop their confidence, have greater access to a STEM education and expand their connections, helping them succeed in a STEM career. To date, 60 women students at Ontario Tech have received support and encouragement from more than 100 donors and 60 mentors.
Each year the program engages 20 new women students entering STEM programs. Students are matched with a mentor and receive personal support through scholarships and resources during their full academic journey.
A strong pathway of support, accessibility and leadership for women in the university's STEM programs leads to diversity of thought, promotes an inclusive workforce, creates role models for young girls and further advances innovation in STEM research and development.
Women for STEM is leading the way to help break barriers and biases on International Women's Day and beyond. Through donor support and the efforts of our Women for STEM Council, the program has raised $700,000 toward its $2-million goal.
Quotes
"Thanks to our Women for STEM Council, donors, students and mentors, the Women for STEM program is addressing the gender gap for women in STEM education and careers.  We will welcome our fourth annual group of women entering a STEM education in September and celebrate the achievements of the entire industry at our annual Women for STEM Summit in October. We look forward to engaging the community and supporting more women in STEM at Ontario Tech."
-Susan T. McGovern, Vice-President, External Relations and Advancement, Ontario Tech University
"Women need seats at the table, the lab, the operating room, every place where decisions are made. Ontario Tech's Women for STEM program encourages this. With the support from our donors, partners and mentors, we are able to advance the program and celebrate the future of women in STEM careers. Our program goal in the next 10 years is to raise $2 million in support of 200 students. We are well on our way to creating a path for these women and we need continuing support from the community to do so."
–Lisa McBride, Women for STEM Council Chair, and Country Leader for Small Modular Reactors, GE Hitachi
"Ontario Tech's Women for STEM program is a wonderful initiative for students entering STEM. I was so pleased to be part of the most recent mentorship program where I could share my experiences as a woman leader in the STEM industry.  Connecting young women with like-minded professionals in STEM is the most valuable resource for them as they pursue a career in an industry where they are vastly outnumbered."
–Dr. Carolyn McGregor, Professor and two-time Canada Research Chair in Health Informatics, Faculty of Business and Technology, Ontario Tech University
link