June 01, 2022
Tickets on Sale for CMU Community Day at Kennywood June 11
Tickets for CMU Community Day at Kennywood Park June 11 are on sale. All sales are from noon to 1 p.m. in the Cohon University Center.  Remaining ticket sale dates are June, 3, 6, 8 and 10.  
CMU Staff presenting their CMU ID may purchase up to FOUR CMU FunDay tickets for $15/each (VALID ONLY ON JUNE 11). Sales are CASH ONLY and ALL TICKET QUANTITIES ARE LIMITED.
* $15 tickets available to CMU Staff only. Additional Any-Day tickets available at the discounted rate of $36.  All others may purchase the discounted-rate tickets. * Please see tickets for any restrictions/additional details. No exchanges or refunds.
KENNY KASH may be purchased for $5/pack (worth $10). Only one Kenny Kash pack per CMU FunDay ticket; cannot be purchased with Any-Day tickets. Use Kenny Kash at designated food/drink, game & gift vendors.
RAFFLE PRIZES! CMU Staff will be given ONE Ticket for each Kennywood ticket purchased, either FunDay or Any-Day. Winning numbers will be drawn at the CMU Community Day, Pavillion #7 at 1 p.m. Winners need not be present. They will be notified to receive prizes beginning June 13.
Four New Trustees Added to CMU Board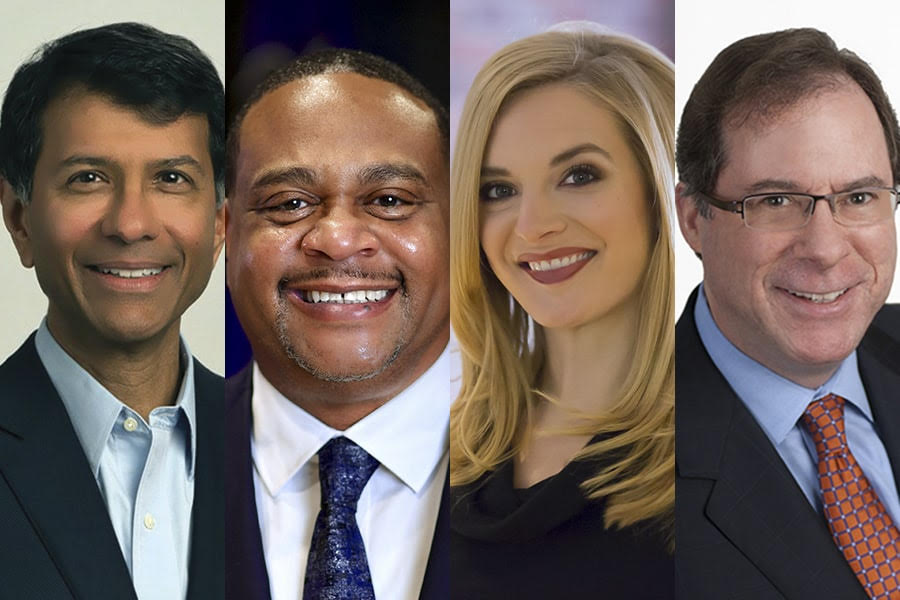 CMU's new trustees: Ajei Gopa, Ed Gainey, Brit McCandless Farmer and John Watts.
The Carnegie Mellon University Board of Trustees elected one new member, Ansys Inc. President and CEO Ajei Gopal, and added three ex-officio members during its May 2022 meeting. Ed Gainey, mayor of Pittsburgh; alumna Brit McCandless Farmer, president-elect of the Carnegie Mellon Alumni Association Board; and alumnus John Watts, incoming president of CMU's Andrew Carnegie Society, will serve in ex-officio roles.
"It's a tremendous joy to welcome this new group of trustees to Carnegie Mellon," said David Coulter, chair of CMU's Board of Trustees. "They bring volumes of experience and dedication to our mission. I look forward to working together in support of the CMU community."
"I am thrilled by the addition of these new trustees to our Board of Trustees," said Carnegie Mellon President Farnam Jahanian. "I have had the opportunity to get to know them in recent years, and I look forward to relying on their counsel to help the university advance our mission in education, research and societal impact."
Read about the new trustees.
The Heinz College has announced the Fallen Heroes Scholarship Program, a program dedicated to supporting the surviving families of members of our armed forces who lost their lives while serving our country.
"We are pleased to announce the Fallen Heroes Scholarship Program," said Jon Nehlsen, associate dean of Advancement, External Relations and Marketing at Heinz College. "This scholarship program allows Heinz College to express our gratitude to the families of those who lost their lives in service to our county by investing in them and their futures."
In partnership with the Travis Manion Foundation, the Fallen Heroes Scholarship Program is available to surviving spouses, domestic partners and children of a member of any service branch of the United States Military who died while on active duty or as a direct result of their military service. Eligible students will receive a minimum scholarship of 30% of their tuition from Carnegie Mellon for any Heinz College master's degree program, in addition to other scholarship support where the student may be eligible.
"We strive to empower veterans and families of the fallen," said John DiNome, immediate past chairman of the board at Travis Manion Foundation. "We are proud to offer this scholarship to our survivor community."
Find out more about the program.
After a rigorous application and interview process involving over 40 student applicants, the CMU Swartz Center has selected the 2022-2024 cohort of undergraduate Innovation Scholars. The students represent various CMU schools, including the School of Computer Science, Tepper, Engineering, Dietrich and CMU Qatar. The cohort includes six females and seven males, all of whom have diverse backgrounds and entrepreneurial interests.
Each Scholar completes a two-year program, which integrates academic coursework, a weekly Proseminar in Entrepreneurial Leadership course, work experience in a startup company, and networking and mentorship opportunities.
Meet the new Innovation Scholars.
Are you a student who is looking for a summer on-campus or virtual job? If the idea of getting paid to talk about your CMU student experience interests you, you may want to consider applying to become a Tartan Ambassador.
University Communications and Marketing is looking to hire a diverse group of current undergraduate CMU students who represent different schools, programs, years and experiences at CMU. Each paid position will work either in person or virtually by connecting and engaging with visitors (primarily prospective undergraduate students) through written communications and events, including in-person and virtual tours and panels.
You can learn more information about the positions on Handshake:
Carnegie Mellon was awarded a grant from the Richard King Mellon Foundation to further support health care informatics and analytics research. 
Rema Padman, the Trustees Professor of Management Science and Healthcare Informatics at CMU's Heinz College, will oversee the grant, which will support research to evaluate an artificial intelligence-enabled mobile game to improve nutrition, physical activity and health hygiene education and outcomes among children with Type 1 diabetes. The work will be done in collaboration with the UPMC Children's Hospital of Pittsburgh and FriendsLearn, developer of the game app fooya!.
"The funding will allow our interdisciplinary team to examine and evaluate the impact of fooya!, a gamified extension of the fooya! mobile app envisioned as a digital vaccine candidate that seeks to positively influence the food and lifestyle habits of children with Type 1 diabetes and improve related knowledge, behaviors and health outcomes," Padman said.
In prior research, Padman and her team have studied how fooya!, which uses implicit learning and neurocognitive training mechanisms as a digital therapeutic approach to promote healthy eating and physical activity in children, affected actual food choices. Her work has shown that the game significantly improved children's food choices immediately after play and is a promising direction for longitudinal evaluation in a health education curriculum.
The Heinz College has announced a new executive education program to address a critical talent shortage in the public sector — government leaders who can build evidence-based, data-driven organizations. The program, Public Interest Technology Certificate (PITC), supports these leaders as they navigate the complexities of digital transformation and the introduction of artificial intelligence (AI) into their agencies.
"We are pleased to offer the PITC to government leaders to help them gain expertise in data management, digital innovation and AI leadership," said Jackie Speedy, associate dean of the School of Public Policy and Management. "The Foundations for Evidence-Based Policymaking Act mandates federal agency data be accessible and requires agencies to develop statistical evidence to support policymaking. The PITC will empower government leaders to fulfill this mandate."
PITC has a government focus, with an emphasis on digital innovation and realizable organizational change. The six-month program is delivered in a cohort-based synchronous online mode with an in-person touchpoint and is designed for participants to develop a tight-knit community of peers for support and networking.
The high-resolution, multi-camera recording of this incredible concert is available to watch on the School of Music YouTube channel. Watch the video here
Carnegie Mellon welcomes the following new staff members this week.
Joan Axelson, Office Manager, Language Technologies Institute;
Kayla Papakie, Senior Communications Manager, School of Computer Science Dean's Office;
Lauren Wiater, Assistant Director of Development, Heinz College;

Amanda Mottorn, Temporary Employment Service, HR Operations;
Jonathon Boldt, AV Sr. Departmental TEF Technician, Tech Enhanced Facilities Ops, Computing Services;
August Delbert, Manager, Data and Analytics, HR Benefits;
Aaron Lauth, Chief of Police, University Police;
Brendan Honick, Data Curator and Metadata Librarian (DCML), Pittsburgh Supercomputing Center;
Erin Sullivan, Research Associate I, Biological Sciences;
Kalie Hoover, EH&S Technician, Research Safety, Enterprise Risk Management Services;
Lihan Zhan, Assistant Software Engineer, SEI Ssd Eiss Tactical and Ai Enabled Software;
Lindsay Lewis, Temporary Employment Service, HR Operations;
Lisa Daniels, Associate Global Payroll Specialist, Payroll Services;
Patrick Earl, Associate DevOps Engineer, SEI Ssd Continuous Deployment of Capability;
Renny Hartono, Temporary Employment Service, HR Operations;
Tamara Diggs, Student Services Specialist, Enrollment Services;
Trista Polaski, Associate Solutions Engineer, SEI Monitoring and Response;
Taylor Ritzert, Coordinator of SLICE (Prevention Efforts and Fraternity and Sorority Life), Campus Engagement; and
William Weidensall, Steamfitter I, FMS.
link