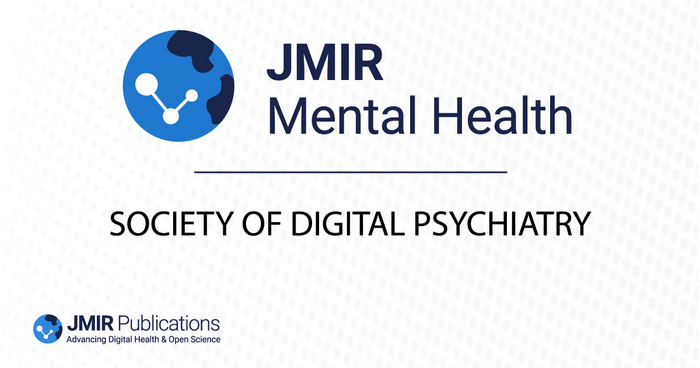 (Toronto, April 24, 2023) JMIR Publications and the Society of Digital Psychiatry (SODP) have announced a new partnership aimed at advancing research in the field of digital mental health. This collaboration will focus on supporting education and knowledge sharing in the fast moving world of digital psychiatry and establishing priorities for the space, including identifying current gaps in knowledge and determining areas for future study, with particular emphasis on addressing disparities in access to care. 
The partnership brings together JMIR Publications, a leading open-access publisher of scholarly journals on digital health, and the Society of Digital Psychiatry, an organization dedicated to promoting and educating members about digital innovations in mental health. 
Although digital health solutions have emerged as critical tools to address the global mental health crisis, there are challenges that require further attention. The partnership between these organizations will focus on specific aspects of digital psychiatry and mental health research that are particularly relevant, including equity, replicability, privacy concerns, and public awareness and engagement. 
"The field of digital mental health is rapidly evolving, and it is important that the next generation of research can keep pace with these changes," says Dr John Torous, MD, editor of JMIR Mental Health. 
In their recent editorial titled "Focusing on Digital Research Priorities for Advancing the Access and Quality of Mental Health," Dr Torous and coauthors highlight several new frontiers for forthcoming research in this field. The editorial piece also introduces JMIR Mental Health as the official journal of the Society of Digital Psychiatry, which will serve to disseminate high-quality research. JMIR Mental Health is a peer-reviewed journal with an impact factor of 6.3 (June 2022); it is indexed in PubMed, PubMed Central, and other reputed databases. 
By bringing together academics, clinicians, industry, patients and families, the synergy between JMIR Mental Health and the Society of Digital Psychiatry will help advance the mission of increased access and quality of mental health services for all. 
If citing the original editorial article, please cite as:
Torous J, Benson NM, Myrick K, Eysenbach G
Focusing on Digital Research Priorities for Advancing the Access and Quality of Mental Health
JMIR Mental Health 2023;10:e47898
URL: https://mental.jmir.org/2023/1/e47898/
doi: 10.2196/47898
###
About the Society of Digital Psychiatry
Founded in 2021, the Society of Digital Psychiatry serves as a hub to connect people and foster innovation. Members represent all aspects of digital psychiatry from students to patient leaders, clinicians to researchers, data scientists to business leaders. To learn more visit: https://www.sodpsych.org/about 
 
About JMIR Publications
JMIR Publications is a leading, born-digital, open access publisher of 30+ academic journals and other innovative scientific communication products that focus on the intersection of health, and technology. Its flagship journal, the Journal of Medical Internet Research, is the leading digital health journal globally in content breadth and visibility, and is the largest journal in the medical informatics field.
To learn more about JMIR Publications, please visit jmirpublications.com or connect with us via Twitter, LinkedIn, YouTube, Facebook, and Instagram.
Head office: 130 Queens Quay East, Unit 1100, Toronto, ON, M5A 0P6 Canada
Media contact: [email protected]
The content of this communication is licensed under the terms of the Creative Commons Attribution License (https://creativecommons.org/licenses/by/4.0/), which permits unrestricted use, distribution, and reproduction in any medium, provided the original work, published by JMIR Publications, is properly cited.
---
Disclaimer: AAAS and EurekAlert! are not responsible for the accuracy of news releases posted to EurekAlert! by contributing institutions or for the use of any information through the EurekAlert system.

link