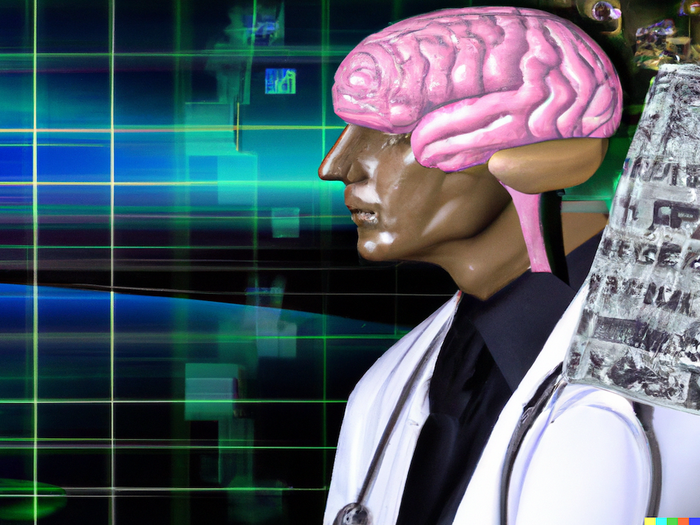 In a recent interview posted on JMIR TV, JMIR Publications' CEO Dr Gunther Eysenbach speaks with Dr Andrew Taylor from Yale University School of Medicine about their paper titled "How Does ChatGPT Perform on the United States Medical Licensing Examination? The Implications of Large Language Models for Medical Education and Knowledge Assessment," published in JMIR Medical Education. 
The study examined how ChatGPT performed on the United States Medical Licensing Examination (USMLE) compared to other AI language models such as InstructGPT and GPT-3. The researchers found that ChatGPT's performance on the exam was comparable to that of a third-year medical student in terms of medical knowledge assessment, but more importantly, it outperformed the other two models because its dialogic component enabled it to provide clear rationales for its answers. 
ChatGPT's responses were coherent and provided justifiable context. Its accuracy in providing dialogic responses similar to human learners may help create an interactive learning environment for students, supporting problem-solving and reflective practice. 
The interview also discusses the limitations of using ChatGPT, such as the need for structured prompts. In their conversation, Dr Eysenbach remarked how the rapid growth of ChatGPT, which has made AI accessible to end consumers, could be a major disruption and technological shift in the field of medical education. They also cited some concerns with ChatGPT's accuracy in retrieving information such as lack of source identification—a phenomenon called AI hallucination, and the need for additional training or "grounding" of information sources for reliability purposes. 
Video Interview with Dr Eysenbach and Dr Taylor here https://youtu.be/EvWlSKo3jC0
Dr Eysenbach commented, "There's certainly more work to be done in specifically training ChatGPT on peer-reviewed literature, and perhaps in connecting ChatGPT with more structured databases, which are out there, like PubMed and CrossRef." 
In conclusion, there is interest in exploring how tools like ChatGPT can be used to improve health care delivery, and Dr Taylor sees potential in using such AI technology in medical education to create a more dynamic learning process for students and practitioners. 
"My interest is…how we could potentially use tools like this in the health care system to deliver better and more effective care. And I think we're going to explore potential avenues for that, and I would love to see further development of this in the medical kind of education space, and I think we will….from a student kind of learning standpoint, it becomes much more dynamic that kind of learning process", added Dr Taylor. 
JMIR Publications plans to publish a special e-collection on this topic, and is inviting authors to submit new research on the use of ChatGPT and generative AI in medical education; see the call for papers here: https://mededu.jmir.org/announcements/365
About JMIR Medical Education
JMIR Medical Education (JME) is an open access, PubMed-indexed, peer-reviewed journal focusing on technology, innovation, and openness in medical education. This includes e-learning and virtual training, which has gained critical relevance in the (post-)COVID world. Another focus is on how to train health professionals to use digital tools. We publish original research, reviews, viewpoint, and policy papers on innovation and technology in medical education. As an open access journal, we have a special interest in open and free tools and digital learning objects for medical education and urge authors to make their tools and learning objects freely available (we may also publish them as a Multimedia Appendix). We also invite submissions of non-conventional articles (e.g., open medical education material and software resources that are not yet evaluated but free for others to use/implement). 
In our "Students' Corner," we invite students and trainees from various health professions to submit short essays and viewpoints on all aspects of medical education, particularly suggestions on improving medical education and suggestions for new technologies, applications, and approaches. 
The journal is indexed in PubMed, PubMed Central, Scopus, DOAJ, and the Emerging Sources Citation Index (Clarivate).
###
DOI – https://doi.org/10.2196/45312
Full-text – https://mededu.jmir.org/2023/1/e45312
Corresponding author – David Chartash, PhD, Section for Biomedical Informatics and Data Science, Yale University School of Medicine, 300 George Street, Suite 50, New Haven, CT, US
Phone – 1 203-737-5379
Email – [email protected]
Keywords – natural language processing, NLP, MedQA, generative pre-trained transformer, GPT, medical education, chatbot, artificial intelligence, education technology, ChatGPT, conversational agent, machine learning
About JMIR Publications
JMIR Publications is a leading, born-digital, open access publisher of 30+ academic journals and other innovative scientific communication products that focus on the intersection of health and technology. Its flagship journal, the Journal of Medical Internet Research, is the leading digital health journal globally in content breadth and visibility, and it is the largest journal in the medical informatics field.
To learn more about JMIR Publications, please visit https://www.JMIRPublications.com or connect with us via:
YouTube – https://www.youtube.com/c/JMIRPublications
Facebook – https://www.facebook.com/JMedInternetRes
Twitter – https://twitter.com/jmirpub
LinkedIn – https://www.linkedin.com/company/jmir-publications
Instagram – https://www.instagram.com/jmirpub/
Head Office – 130 Queens Quay East, Unit 1100 Toronto, ON, M5A 0P6 Canada
Media Contact – [email protected]
The content of this communication is licensed under the terms of the Creative Commons Attribution License (https://creativecommons.org/licenses/by/4.0/), which permits unrestricted use, distribution, and reproduction in any medium, provided the original work, published by JMIR Publications, is properly cited.
---
Journal
JMIR Medical Education
Article Title
How Does ChatGPT Perform on the United States Medical Licensing Examination? The Implications of Large Language Models for Medical Education and Knowledge Assessment
Article Publication Date
8-Feb-2023
Disclaimer: AAAS and EurekAlert! are not responsible for the accuracy of news releases posted to EurekAlert! by contributing institutions or for the use of any information through the EurekAlert system.

link