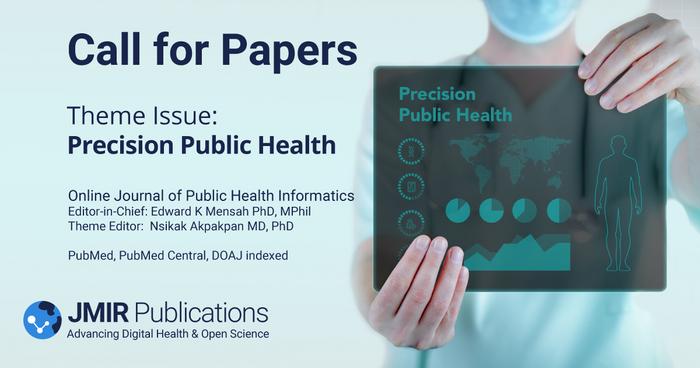 Online Journal of Public Health Informatics (OJPHI) Editor-in-Chief: Edward K Mensah PhD, MPhil and theme editor Nsikak Akpakpan MD, PhD welcome submissions to a special theme issue examining "Precision Public Health."
The inaugural issue of the Online Journal of Public Health Informatics under the JMIR Publications platform will feature articles on precision public health, a technology-enhanced, data-driven targeted approach to public health practice and research. 
The current special issue invites articles in the following as well as other interesting areas of precision public health:
Use of big data to predict public health risks such as smoking progression, gun violence, air or water pollution, emerging infectious diseases (including zoonotic diseases), antibiotic resistance, asthma, diabetes, implementation of precision public health programs
Integration of the social determinants of health and electronic health records in precision public health programs
Application of DHIS2 (District Health Information System 2), the world's largest health information systems platform, in precision public health programs in middle- and low-income countries
Measurement of the multidimensional attributes of data quality used in precision public health programs, given the fact that data constitute the most important asset of precision public health
Application of effective interventions to homogeneous subpopulations within a larger heterogeneous population in order to contain the spread of diseases in higher-income countries and the Global South
 Socioeconomic benefits of implementing precision public health programs for risk identification, disease surveillance, and preventive interventions
Innovations in the application of AI and big data to precision public health use cases such as the tracking of infectious disease pathways
Research in the areas of risk, legal and ethical issues, and governance problems arising from the implementation of AI and predictive analytics in precision public health programs
Risks and challenges of using big data in precision public health programs
OJPHI invites authors to submit original research, literature reviews, and scholarly or well-argued viewpoints to this call for papers on precision public health. We welcome original, unpublished submissions from researchers and practitioners in public health, medicine, health care, computer science, and related fields.
The deadline for submissions is November 30, 2023. All accepted manuscripts will be published as part of the OJPHI special theme issue on Precision Public Health Informatics. 
To learn more please visit: https://ojphi.jmir.org/announcements/397 
###
About JMIR Publications
JMIR Publications is a leading, born-digital, open access publisher of 30+ academic journals and other innovative scientific communication products that focus on the intersection of health and technology. Its flagship journal, the Journal of Medical Internet Research, is the leading digital health journal globally in content breadth and visibility, and it is the largest journal in the medical informatics field.
To learn more about JMIR Publications, please visit https://www.JMIRPublications.com or connect with us via Twitter, LinkedIn, YouTube, Facebook, and Instagram.
Head office: 130 Queens Quay East, Unit 1100, Toronto, ON, M5A 0P6 Canada
Media contact: [email protected]
---
Disclaimer: AAAS and EurekAlert! are not responsible for the accuracy of news releases posted to EurekAlert! by contributing institutions or for the use of any information through the EurekAlert system.

link