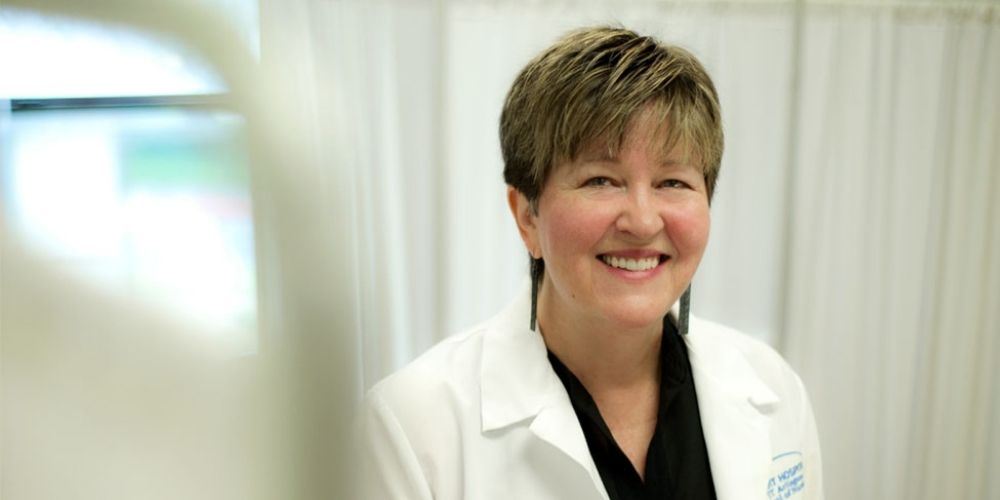 An associate dean in The University of Texas at Arlington's College of Nursing and Health Innovation (CONHI) is among 100 nurses selected as a 2022 Dallas-Fort Worth Great 100 Nurse.
Professor Kathryn Daniel, who has worked in gerontological nursing for 35 years, was nominated by her peers for her dedication and passion for the field of nursing, as well as the great impact she has had on patients and students alike.
"Nursing is a wonderful career for anyone to consider," she said. "There are so many opportunities for nurses to be a part of really making a significant difference in the lives of people in our communities. I've really been blessed to be able to take advantage of those open doors when they appeared in my path. I can't imagine doing anything else."
Daniel has practiced as an advance practice registered nurse (ARPN) in geriatric primary care, long-term care, home-based primary care, and assisted living facilities during her career as a nurse practitioner. Before becoming an APRN, she practiced as a critical care nurse and administrative supervisor for one of the largest hospitals in the DFW area. While in that role, she was selected to be the first nurse to care for the first heart transplant patient in Dallas.
Her most recent work and passion centers on facilitating healthy aging and preparing nurses to care for a rapidly aging population.
"Dr. Daniel is a remarkable educator, researcher and nurse," said Elizabeth Merwin, CONHI dean. "She is well-respected and admired by her peers within our college and nationally in her field and is a great mentor to those she works with. We are fortunate to have her in CONHI, and this is a well-deserved honor that recognizes her outstanding dedication to nursing and older adults."
Daniels also is an accomplished researcher who since 2015 has led UTA's SmartCare program, a collaborative project between CONHI and the College of Engineering that develops technology to improve the independence, quality of life and health of the elderly and those with disabilities. Her expertise in gerontological nursing is well-recognized by faculty from other disciplines and she is frequently sought out as a collaborator on funded interdisciplinary research studies.
Daniel has also spearheaded the effort for CONHI's newest certificates, the undergraduate telehealth and health informatics certificate and graduate gerontology health care certificate. Both bring critical training to CONHI's students so they are prepared to provide exceptional care in these specialized fields.
The Great 100 Nurses program honors 100 registered nurses across the Dallas-Fort Worth region. Recipients must be nominated by their peers and are selected for being role models, leaders, community servants, compassionate caregivers and significant contributors to the nursing profession.
– Written by Sarah McBride, College of Nursing and Health Innovation
link