Nurse Educators work with nursing students to help bridge the space between didactic learning and clinical practice. 
This educational guide will provide you with the information you need to help you determine whether a career as a Nurse Educator is right for you, including important information about top nurse educator programs, salary, and more.
Nurse Educators are masters prepared nurses (MSN) that generally work in academia. Nurse Educators develop coursework curriculum, teach courses, evaluate educational programs, oversee clinical rotations, and conduct research.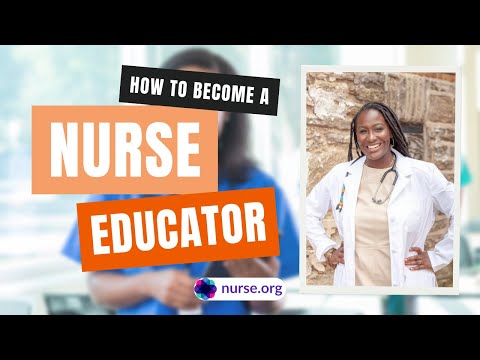 In order to become a Nurse Educator, you'll need to earn a Master's in Science in Nursing (MSN) degree.
An MSN degree is a Master's degree in Nursing and unlike an RN degree, which is a technical degree, or a Bachelor's, which is a four-year degree, an MSN represents an advanced graduate level of education.
Before applying for a degree in nursing education, nurses should have:
Show Me Nurse Educator Programs
Nurse educators in academia are responsible for:
Developing lesson plans
Teaching courses
Evaluating educational programs
Overseeing students' clinical practice
Serving as a mentor on academic and career issues
Promoting discussions among students
Attending faculty meetings
Documenting outcomes of educational processes
Serving on University-based committees
Engaging in scholarly work (e.g. peer review, research, etc.)
Speaking at nursing conferences
Contributing to the academic community via leadership roles
Maintaining clinical competence
Writing grant proposals
In order to become a nurse educator, you'll need to complete an MSN nurse educator program. In these programs, you will take a variety of classes throughout their program, ending in an education and direct patient care practicum. Each program handles these practicums slightly differently. Some will combine them into one course, while others will split them into two separate practicums. This is something to take into consideration when applying for the MSN program, as the minimum hours required is roughly 90 clinical hours. 
Though every MSN curriculum is different, accredited nursing programs follow the framework provided by the American Association of Colleges of Nursing in The Essentials of Master's Education in Nursing.
This document not only outlines the essential curriculum contents and core competencies needed to prepare an MSN for their role and responsibilities, but also the need for Masters-degreed nurses to be prepared to lead the change to promote health, and elevate care in every setting in which they serve. The core of a Master of Science in Nursing program stresses nine key elements.
Show Me Nurse Educator Programs
Master of Science in Nursing Program Core Elements
Background for Practice from Sciences and Humanities 
Organizational and Systems Leadership 
Quality Improvement and Safety 
Translating and Integrating Scholarship into Practice 
Informatics and Healthcare Technologies 
Health Policy and Advocacy 
Interprofessional Collaboration for Improving Patient and Population Health Outcomes
Clinical Prevention and Population Health for Improving Health
Master's-Level Nursing Practice
For this reason, all MSN Nurse Educator programs will offer courses that satisfy these elements. Specific courses related to nursing education and education theory will be required. An MSN Nurse Educator curriculum will be roughly 33 to 39 credits depending on the program. Examples of specific nurse educator courses include the following.
MSN Nurse Educator Courses
Advanced Pharmacology
Economics and Decision Making in Health Care
Assessment and Evaluation in Nursing Education
Advanced Health Assessment
Evidence-Based Practice for Patient-Centered Care 
Population Health
Advanced Pathophysiology
Philosophy, Theory, and Role
Facilitating Student Learning and Teaching Innovation
Curriculum Development in Nursing Education
Innovations in Clinical Teaching & Evaluation
Educational Program Evaluation & Accreditation
According to the BLS, the mean annual salary as of May 2021 is $82,040 for nurse educators in post-secondary universities. 
Employment of Nurse Educators
As seen in the table, the majority of nurse educators work at the college or university level; however, nurse educators in the hospital setting can earn a higher salary. 
Show Me Nurse Educator Programs
Highest Paying Cities and States for Nurse Educators
Top 5 Highest Paying States for Clinical Nurse Instructors
California – $106,850
Massachusetts – $102,620
Hawaii – $102,520
District of Columbia – $100,030
Alaska – $96,100
Top 5 Highest Paying Cities for Clinical Nurse Instructors
Visalia-Porterville, CA – $146,700
Charlottesville, VA – $109,450
Los Angeles-Long Beach-Anaheim, CA – $109,310
San Francisco-Oakland-Hayward, CA – $108,630
Boston-Cambridge-Nashua, MA-NH – $108,430
Source: BLS annual mean wage 2021
The BLS states that from 2021 to 2031 there's a projected growth of nursing instructors and teachers by 22%, which is much higher than other post-secondary educator positions. 
There is a critical need for nurse educators in academia
Young, experienced, and talented educators are essential to continue educating the new and upcoming nursing students. Without filling these vacancies, the nursing profession will continue to suffer from a shortage of experienced nurses.
Show Me Nurse Educator Programs
Nurse educators can work in a variety of locations but most work in higher education or academia. Educators can work in the following locations, including: 
Clinical faculty member
Dean of a nursing school
Associate Dean of a nursing school
Professor
Administrative nursing staff
Specialist in continued education
Unit-based educator
Hospital-based educator
NCLEX educator
Though every MSN Nurse Educator degree program is different, most have similar entry requirements, which generally include:
A minimum of two years of nursing experience
Satisfactory completion of an accredited baccalaureate program with at least 3.0 GPA on a 4.0 scale
Submission of official transcripts from all postsecondary schools attended
Unencumbered, active RN license in state of practice (Some programs will require a RN license in the state of the program)
Two or three professional references
Completion of undergraduate statistics with a grade of C or better
Written statement of professional goals for graduate study and nursing career
Professional resume or curriculum vitae
Successful completion of a personal interview with the Nursing Admissions Committee.
GRE if applicable
TOEFL test if applicable
There are many options available to prospective Nurse Educator students. Program cost shouldn't deter you from following your career goals, the benefits will outweigh the cost.  
To assist you in learning more about your options for financing your MSN, here are the most popular financial aid and other monetary options:
Grants
Grants are financial aid that is granted to you for your education that you do not have to pay back. They may be based on need, availability, and merit. There are three main ways you can receive grants for a graduate degree: 
Through the school you will be attending: you will have to fill out the FAFSA, which will then automatically tell you what kind of federal grants you are eligible for
Through the school's financial aid office: you can ask for assistance in applying for any additional grants you can qualify for. 
Through your field: for instance, there may be MSN-specific grants or grants specifically related to your specialty field. You could check governing associations related to your field or speak with your program director for guidance on available grants.   
Scholarships
Check with the school you will be attending or apply for a full list of scholarships available through the school. Many have private scholarships that are funded with different qualifications, check with the school for eligibility requirements. Try searching locally and online for graduate nursing scholarships and programs, especially in your chosen field. Scholarships range in amount, from a monetary value all the way up to full-tuition. 
Loans
A student loan is aid you receive to pay for your education that you are required to pay back, with interest. 
Two Types of Nursing Loans
Federal student loans are provided through the government and usually carry much more generous terms and lower interest. 
Private loans are funded through a financial institution such as a bank or credit union. Most federal loans require that you be enrolled at least half-time in your degree program and allow you to borrow up to $20,500 per school year. 
How to Apply For Student Loans 
Fill out your FAFSA – the best course of action when pursuing loans is to first fill out your FAFSA and see which federal loan options you qualify for. 
Search for private student loans – once you've determined the amount of federal loans you are eligible for then search for private student loans as needed to finance the rest of your education. 
You will need to be careful when choosing private loans, all loans are not created equal. Here is a list of items to research when choosing a private loan, 
Loan terms
Interest rates
Additional fees, such as origination fees, early payoff fees, and late payment penalties. 
Your school's financial aid office will help guide you through choosing private education loans as well.
Show Me Nurse Educator Programs
Making the decision to become a Nurse Educator is just the first step. Here are the steps you need to take to make it possible:
Start investigating the available programs. With hundreds of online programs available to nurses, the task can be quite daunting. If you start off knowing what your goals and priorities are and then compare what you're looking for to the list of accredited programs, you will quickly identify the programs that will work best for you. Nurse Educator programs are available online, at a brick and mortar institution and a hybrid version. 
Make a list of each program's application requirements and start collecting your documentation. The key to a successful application process is organization. By making a comprehensive list of what each program expects you will be able to check off each requirement and keep track of your progress, deadlines, and more. Due to the fact that graduate programs require letters of recommendation, organization and time management is key
Send in your applications and apply for state-specific nursing licenses if needed.
Apply for financial aid, scholarships, grants.
$70,000 – $90,000
Non-Bedside
RN
Masters
Nurse Educator
link