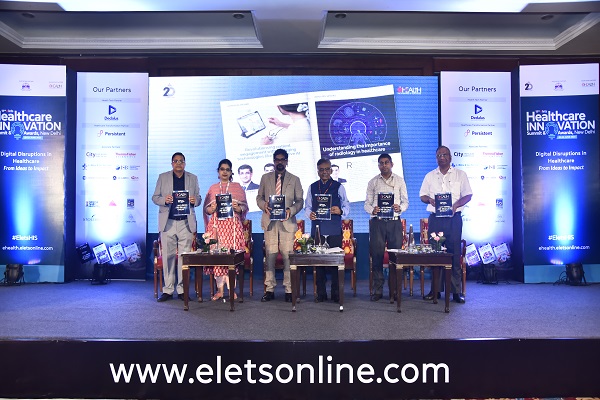 The 11th Elets Healthcare Innovation Summit & Awards, held on 22-23 June 2023 at the Eros Hotel in New Delhi, was a grand spectacle of innovation, collaboration, and recognition. The event, which was bigger, bolder, and better than its ten predecessors, centered on the theme 'Digital Disruptions in Healthcare: From Ideas to Impact'.
The summit was a melting pot of ideas and innovation, featuring over 75+ speakers, 15+ engrossing sessions, and 12+ partners. It was a testament to the power of collaboration, with over 200+ attendees, including top CEOs, CIOs, CXOs, healthcare experts, and government dignitaries including Dr Akhilesh Gupta | Sr. Advisor | Department of Science and Technology| Government of India, N Nawin Sona | Secretary II | Public Health Department | Government of Maharashtra, Urvashi Prasad | Director | Office of Vice Chairman | NITI Aayog, Shri Vikram Pagaria | Joint Director | Coordination (Private Integration & Capacity Building), ABDM | NHA, Dr. Ismaeel Almakrami | Health Informatics Consultant & Hospital Director | Ministry of Health, Saudi Arabia, Dr Karthik Adapa | Special Secretary | Department of Health and Family Welfare | Government of Punjab, Dr Shafqat Khan | Additional Mission Director | Ayushman Bharat Digital Health Mission and Nodal Officer of AI & Ease of Doing Business | UT of Jammu & Kashmir, all congregating under one roof.
The two-day summit was not just about discussions and deliberations. It was also a celebration of excellence in healthcare, with two gala award nights adding a touch of glamour and prestige. Over 50+ awardees were recognised across various categories, including Healthcare Delivery Organisations, Diagnostics & Preventive Healthcare Organisations, Individual Awards, Digital Health Organisations, and Special Awards for Government and Non-Profit Organisations.
Welcome Address
Dr. Ravi Gupta | CEO, Founder & Editor-in-Chief (eHealth Magazine) | Elets Technomedia
"The 11th Elets Healthcare Innovation Summit and Awards, currently underway, is a platform for profound discussions, invaluable knowledge sharing, and commendable achievements. This influential event has shed light on cutting-edge scientific advancements, emerging best practices, and transformative developments that are shaping the healthcare landscape. With its impressive lineup of speakers and participants, this summit holds the potential to propel India's healthcare sector to new heights, fostering a rapid and dynamic transformation in the industry."
Health System Strategic Growth: Challenges & Opportunities
Lalit Jain | Director | Environment | Science & Technology | Government of Himachal Pradesh
"The irreplaceable value of a doctor's touch, sensitivity, and interpersonal engagement with patients cannot be surpassed by any other means. Although Artificial Intelligence and Robotic Surgery have made significant advancements, they are not without their limitations. They can only serve as supportive tools, enhancing the capabilities of healthcare professionals. Ultimately, technology should be regarded as a complement rather than a substitute, recognizing the unique qualities that doctors bring to the patient experience through their human connection and intuition."
Arun Shukla | Managing Partner | Vishwakarma Industries
"Our company specialises in the production and manufacturing of top-quality equipment tailored specifically for the pharmaceutical and healthcare sectors. Despite our humble beginnings in the remote location of Nalagarh, Himachal Pradesh, where resources were limited and a shortage of highly skilled labour existed, we have successfully established ourselves as a prominent supplier of medical equipment. Initially catering solely to the demands of Himachal Pradesh, we have now expanded our reach and are proudly exporting our products to a total of eight countries, showcasing our commitment to excellence and global market penetration."
Dr D K Gupta | Chairman | Felix Hospital
"Every industry in the economy has undergone significant changes due to technology, and the healthcare sector is no exception. Technological advancements such as AI, AR/VR, and digitalization have revolutionised various aspects of patient care, ranging from enhancing the patient experience to preventing, protecting, diagnosing, and treating illnesses. Additionally, technologies like ERP have streamlined billing and provided essential backend support. Utilising teleconsultation, we have successfully consulted over one crore patients in the past three months."
Dr Charu Dutt Arora | Consultant & Head | AmeriHealth Home Healthcare | Asian Institute of Medical Sciences | Faridabad
"One of the significant hindrances to the strategic growth of the healthcare system is the absence of education on crucial technological advancements among medical professionals. Essential fields such as Artificial Intelligence, Machine Learning, Augmented Reality/Virtual Reality, Big Data, and even writing e-prescriptions are not incorporated into the curriculum of medical schools, whether they are government-funded or privately owned. This educational gap affects a substantial number of medical students, as nearly one hundred thousand individuals graduate annually without being equipped with the knowledge and skills needed to harness these transformative technologies in healthcare."
Pankaj Mittal | Hospital Director | Manipal Hospital | Gurgaon
"In order to effectively gauge the progress and advancements within the healthcare industry, it is essential to establish explicit and well-defined goals and objectives. The metrics chosen to evaluate this growth should provide a comprehensive and transparent depiction of the industry's development. When determining key performance indicators and metrics, it is crucial to ensure they are quantifiable and directly relevant to the policies and initiatives implemented. Moreover, these indicators should be easily trackable, enabling consistent monitoring of progress. Establishing a baseline number allows for a clear comparison and understanding of the industry's growth trajectory."
Industry Presentation
Sonali Deshmukh | Business Head | Dedalus India
"The Indian healthcare sector is undergoing a remarkable transformation, driven by innovative initiatives, strong leadership, and dedicated commitments. Dedalus is eager to contribute to this effort by introducing its healthcare and diagnostic solutions in India. We are all aware that India is a very cost-centric market. Catering to this, we have strategize to offer shared services, improve local delivery capability, and localise the delivery of our products."
Industry Presentation
Komal Wagh | National Application Manager for Dynamic Digital Radiography (DDR) & Ultrasound (USG) | Konica Minolta Healthcare
"Our vision is to be a reliable medical provider. We specialize in the healthcare industry and offer a range of products including computer radiography, digital radiography, and ultrasound imaging. Additionally, we have developed digital solutions and introduced a groundbreaking technology called Dynamic Digital Radiography, which has yet to be adopted in India. With the implementation of this technology, we not only have the ability to visualize motion but also assess its functionality."
Progress Through Partnership: The Alliance of Medical Device and Digital Technologies in Healthcare
Cd Navneet Bali | Senior Vice President and Group Head | Narayana Health
"Despite the progress made so far, I firmly believe that the healthcare industry is yet to experience true disruption. From our perspective as patients, hospitals continue to operate in the same conventional manner. We still visit the outpatient departments, wait in queues, engage in disputes over bills, and return home. Clearly, there is a considerable distance to cover before substantial transformation occurs."
Praveen Bist | Chief Information Officer | Amrita Hospitals
"The emergence of telecommunication devices, encompassing both long-range and short-range capabilities, such as Bluetooth technology, is rapidly becoming the norm. Thanks to the advent of 5G, which provides ample bandwidth, the seamless and real-time transmission of data is now possible. The impact of healthcare extends across every individual, industry, and domain, leading to an increased adoption of Artificial Intelligence (AI) in this field. From my perspective, these two technological advancements—telecommunication devices and AI—stand out prominently as key drivers of progress in healthcare."
Nitin Gupta | Managing Director | India & South Asia | FUJIFILM SONOSITE India Pvt. Ltd.
"When contemplating healthcare, two fundamental aspects that immediately come to my mind are affordability and accessibility. In my opinion, it is crucial to address both of these factors. As we are well aware, a significant portion of healthcare expenses is borne out-of-pocket, and we are familiar with the workings of insurance and our healthcare system. I strongly believe that medical devices have a pivotal role to play in this regard. The integration of digital technology and medical devices holds the potential to revolutionize the healthcare landscape. Connected devices are really changing the game."
Navin Singh | Managing Director | Nareena Lifesciences Pvt. Ltd.
"The healthcare sector has witnessed remarkable advancements. Previously, individuals had to visit hospitals for even minor concerns. However, now we have a plethora of tools available, such as blood pressure monitors and home-based sugar tests. These digital tools have empowered us to take control and monitor various aspects of our health conveniently."
Sudhakar Mairpady | Director – Regulatory & Government Affairs | BD
"As time has passed, individuals have embraced the advancements in technology and equipment within the healthcare industry. Nowadays, the entire process, starting from booking an appointment to undergoing scans and receiving treatment, has been significantly streamlined due to the availability of technology. People can easily schedule their appointments, and their medical reports can be promptly evaluated by multiple experts, ensuring comprehensive consultations prior to any surgical interventions. This marks just the initial phase of progress, as in the coming five years, we can anticipate substantial reductions in waiting times, increased operational efficiency, and cost savings for patients."
Industry Presentation
Vivek Kumar Jain | Sr. Manager – Head Corporate Communications | National Research Development Corporation | Ministry of Science & Technology | Government of India
"We are assisting inventors with the filing of patent applications. Additionally, we have other programs such as the Technology Development Validation and Commercialisation Programmes. Under this scheme, if anyone has an innovative idea that can elevate the Technology Readiness Level from, say, 3 to 6, we provide substantial funding to help these innovators develop their product in the laboratory and bring it to market."
Fireside Chat
Charting the Course: Navigating the Evolving & Collaborative Healthcare Landscape through Pharma Innovation
Shaik Barak Tulla | Senior Vice President and Head – Acute Cluster | Cipla
"Innovation encompasses the processes of invention, adoption, and revision, each playing a vital role in bringing about meaningful change and ensuring success. These three pillars are paralleled by the equally significant verticals of manufacturers, healthcare providers, and patients. To truly drive transformative advancements, it is imperative that these entities collaborate closely, fostering strong partnerships and synergies to collectively propel progress and achieve tangible results."
Sudha Sharma | Director | Rhuto India Pharmaceuticals Pvt Ltd
"In order to effectively navigate the challenges posed by the rapidly evolving digital healthcare landscape, pharmaceutical companies need to wholeheartedly embrace technological innovation. By leveraging digital platforms, they can revolutionise the way clinical trials are conducted, introducing a new era of convenience and ease within the healthcare industry. The focus should also be on greater collaboration among the various stakeholders in the healthcare industry."
Industry Presentation
Rustom Lawyer | Co-Founder & Chief Executive Officer | Augnito
"During my initial venture in the clinical documentation domain, we discovered the immense potential of AI in enhancing clinical workflows. Recognizing the promising future it held, we embarked on developing our own proprietary speech recognition and natural language processing technology. This led us to the fascinating realm of voice artificial intelligence. Within this field, numerous technologies converge, including highly accurate speech recognition and advanced natural language understanding. The combination of these innovations has the power to revolutionize the way we communicate and comprehend information, truly marking a significant turning point in the industry."
Collaborations & Partnerships in Healthcare: A Win-Win Model for Founders & Investors
Bandana Kankani | Solutionist | NexxtMile
"The fate of the product market and the Gross Profit Margin (GPM) strategy are two areas where founders often struggle. Additionally, many founders are uncertain about what to pitch to their customers and how to articulate the value proposition. These are some of the challenges that founders face during the initial phase."
Ramesh Kannan | Partner | Somerset Indus Healthcare Fund
"Currently, we are working in both Oncology and dialysis fields to create something remarkable using the Public-Private Partnership (PPP) model. Our focus is on Tier-II and Tier-III cities, particularly on promoters who can make a difference in the market. All our investments are geared towards these cities, which has proven to be very rewarding both in terms of economic returns and contributions to society."
Dr Anand Govindaluri | Founder & Chief Executive Officer | Govin Capital, Singapore
"Healthcare industry has seen an evolution of technology. For instance, back in 2000, the specialty pharmaceutical business and digital health were not particularly popular. However, today, digital health is one of the most significant trends of this decade."
Ajay Mahipal | Managing Director | Healthquad
"ChatGPT essentially assists in content creation using various algorithms tailored to different use cases. It has the capability to generate outputs rapidly. However, in the healthcare ecosystem, it's not as straightforward because clinical guardrails are needed to address healthcare challenges. As an enabler, ChatGPT is beneficial as it aids some of our portfolio companies in bringing solutions to the market. However, those who are just starting out may not be able to leverage ChatGPT effectively to develop solutions."
Namit Chugh | Principal | W Health Ventures
"There are two elements to cross-border innovations. The first involves companies in India developing for the US market. The second is somewhat reverse of the first – it's about replicating in India what we've seen in the West. An analogy can be drawn with what the Indian IT services industry accomplished two decades ago, which can now be applied to healthcare. This includes both understanding the technology and the US healthcare model. These two key ingredients are now available in India, enabling us to build something substantial."
Industry Presentation
Shri Kartikeya | OSD to Ministry of Finance & Skill Training | Government of Andhra Pradesh
"Since the inception of our skill hubs in August of last year, we have successfully trained over 15,000 students and facilitated their placement in various industries. Remarkably, approximately 77% of these individuals have secured employment through our industry connections."
Enhancing Healthcare Delivery in India: Public-Private Partnerships
Dr Parth Desai | Chief Operating Officer | KD Hospital
"In India, rural areas are home to 70% of the population, while urban areas house 70% of the healthcare infrastructure. To effectively tackle this disparity and enhance accessibility and affordability of healthcare, it is crucial to foster stronger collaboration between the government and private entities involved in the healthcare sector. By implementing a Public-Private Partnership (PPP) model, India has the potential to significantly revolutionise its healthcare system."
Vinod N Sawantwadkar | Chief Executive Officer | Jehangir Hospital
"India's healthcare system operates on a private economy basis, with specialist doctors in the private sector and the government providing essential healthcare infrastructure. To bring about significant improvements, the public-private partnership (PPP) model is the ideal approach, combining the strengths of both sectors for transformative changes."
Dr Sunil K Khetarpal | Director | Association of Healthcare Providers (India) – AHPI
"There are numerous benefits associated with the PPP model in the healthcare system. In addition to providing professional and operational expertise, this model also ensures affordability by operating on a high volume and low margin basis. Given that its primary objective is to offer universal health coverage to the masses, affordability plays a crucial role.The availability of specialists is another inherent advantage of this model."
Revolutionizing Healthcare Communications: Unleashing the Power of Digital Transformation
Dr Karan Thakur | Vice President, Sustainability | ESG & Public Affairs, Apollo Hospitals Enterprises Limited
"There is a prevailing crisis of misinformation and disinformation. While accessing information has become increasingly effortless, distinguishing credible sources from unreliable ones remains a formidable challenge. This issue impacts both healthcare providers and the expectations of individuals, including their families. Therefore, I believe it is imperative to ensure a substantial flow of information to patients, citizens, and various other stakeholders. This approach can help mitigate the crisis of misinformation and disinformation and allow for better-informed decision-making."
Yashna Garg | Chief Marketing Officer | Zeon Lifesciences Limited
"Natural Language Processing empowers chatbots to comprehend and provide responses to queries expressed in natural language. In addition, chatbots have the capability to automate various tasks, including scheduling appointments, educating patients, and addressing frequently asked questions. Regarding appointment scheduling, chatbots can significantly decrease the time required for both patients and healthcare providers, thus freeing up valuable time for other essential tasks."
Vikash Sharma | Group Chief Executive Officer & Investor | AVISA Smart Hospitals
"Patient retention poses a significant challenge for hospitals, and it is closely linked to addressing the pain points experienced by patients. By mapping out the patient journey, we can identify pain points that arise from registration, outpatient department (OPD) visits, discharge, and other stages. As a technologically advanced hospital, we have implemented automation solutions to address these pain points effectively. This approach allows us to leverage technology and resolve the aforementioned issues, enhancing the overall patient experience."
Tried and Tested: How Health System Partnerships Unlock in the Laboratory
Dr Harsh Mahajan | Founder & Managing Director | Mahajan Imaging
"In pathology, capital expenses are not a factor due to reagent contracts offering free machines with the purchase of a certain amount of reagents. However, in radiology, hospitals have to buy the machines, resulting in capital expenses. This is why hospitals often outsource radiology and nuclear medicine while retaining pathology labs. Additionally, specialised players in radiology can outperform hospitals. These factors drive the outsourcing trend."
Dr Arjun Dang | Chief Executive Officer & Partner | Dr Dang's Lab
"To me, the concept of "impact" can be likened to a ripple in a pond. Initially, it starts small but gradually expands, affecting anything it encounters along the way. However, my understanding of impact is more akin to a lazy susan. In this analogy, the patients represent the individuals surrounding the lazy susan, while the healthcare system itself acts as the lazy susan. Instead of patients having to navigate through multiple channels for their needs, the integrated healthcare system personalises and delivers precise services to patients whenever necessary."
Dr Ravi Gaur | Partner & Director, DRG Path Labs (Unipath DRG Specialty Laboratory) | Delhi | Chairman Medical Advisory Board | Unipath Specialty Laboratory Ltd, Ahmedabad
"As a forward-thinking individual, I recognize the government's influence on cost. While many aspire to establish high-end diagnostic centers, the optimization of resources becomes challenging. For instance, if I possess a set of 10 tests but currently require only 5, I must wait for the remaining 5 to obtain favourable rates and timely reports, which can take up to three weeks. However, by fostering collaboration and transparency among accredited individuals with similar skill sets, we can collectively utilise our instruments more efficiently. Through sharing, I can perform 10 tests, and the others can contribute their share, ensuring optimal utilisation and, most importantly, cost control."
Dr Nitin Thorve | Chairman & Managing Director | Nidan Group of Companies
"Data holds tremendous significance across various sectors, akin to a hidden gold mine. In healthcare, we are witnessing an era of collaboration, emphasizing the era of data. Sharing, integrating, and securing data play a pivotal role in this landscape. With data transfer happening at supersonic speeds, partnerships extend beyond local labs, hospitals, and healthcare departments. Now, you have the opportunity to form partnerships with institutions worldwide, transcending geographical boundaries."
Jatin Mahajan | Secretary – ADMI (Association of Diagnostics Manufacturers of India) | Managing Director – J Mitra & Co.
"Data is often likened to oil, as it holds tremendous value that can be harnessed to drive innovation and expedite product launches. The richness of data, derived from past experiences, enables the introduction of a multitude of new products within a remarkably short timeframe. Notably, the laboratory serves as the primary site for detecting any viral strains, and this discovery significantly influences product development."
Use of Advanced Technologies in the Healthcare Industry
Dr Santosh Dixit | Chief Domain Expert (Healthcare and Lifesciences) | Innovation Labs
"Shifting our focus to healthcare, there is a significant movement towards the concept of "hospital at home." Provider communities are being created, like clusters of care providers. This entails the establishment of provider communities where medical services are delivered outside traditional hospital settings. We also see the more prononuced dependency on social determination of health."
Srinath Pydimarri | IT Partner – Asia | Viatris
"When considering awareness, there exists a substantial gap, resulting in a significant portion of the population remaining undiagnosed. Currently, the emphasis is on prevention and early detection. Technologies such as Augmented Reality (AR) and Virtual Reality (VR) are pivotal in simplifying and enhancing accessibility to knowledge. These technologies facilitate an intuitive understanding of health conditions and symptoms for the general public, as well as enable healthcare practitioners to easily explain an individual's health condition and comprehend drug mechanisms."
Vishal Gupta | Group Chief Information Officer | Lifecare Hospitals and Bliss Medical Centers
"We must create an ecosystem where adoption of technology is driven by choice rather than force or policies. Such adoption should align with the professionals' value system, emphasizing the benefits of implementing the technologies. Another challenge we face relates to data privacy. To address this, we need to leverage the foundation established by the government and ensure that the systems we deploy in the country are integrated into the broader government ecosystem."
Deepika Grandhi | India Business Development Head – Cleveland Clinic | Founder & Director IMAS Healthcare
"AI is experiencing rapid growth in the field of healthcare, and the impressive work showcased by companies behind the scenes serves as a confirmation of its immense potential. As healthcare professionals, our success lies in providing a value-based equation to our patients. This entails delivering high-quality healthcare at a reduced cost, and AI emerges as a powerful catalyst in achieving this goal."
Dr Harsha Guduru | Founder | Restory HealthyTech Pvt Ltd
"In Indian demography, unless we adopt preventive care in a more robust and low-cost way, our healthcare system will not be able to address the catastrophe of age that is happening. Preventive health goes beyond the realm of biochemistry. It encompasses various aspects such as pharmaceutical health, physiological health, psychological health, and nutritional health. It is crucial for us to consider all these dimensions in order to effectively address the challenges ahead."
Atul Rastogi | Vice President & Head of Global IT | APCER Life Sciences
"Following the pandemic, there has been a remarkable improvement in patient care through the transformative integration of emerging technologies. Companies are harnessing the power of AI, ML, and medical imaging, among others, to enhance the quality of care provided to patients. Undoubtedly, there is mounting pressure on pharmaceutical companies to deliver breakthrough treatments swiftly and reduce time to market."
Bridging the Gap in Clinical Mass Spectrometry: Clinical Research to Diagnostics Continuum
Dr Seema Bhargava | Chairperson and Senior Consultant, Department of Biochemistry | Sir Ganga Ram Hospital | New Delhi
"As medical science progressed into the realm of molecular biology, encompassing genetics, epigenetics, and metabolomics, the significance of Mass Spectrometry grew immensely. Its exceptional sensitivity allows for the precise measurement of every single atom or molecule within the target substance, making it an invaluable tool in this field."
Dr Shaloo Kapoor | Chief Pathologist & Sr. DGM, Agilus Diagnostics | Fortis Escorts Heart Institute | Okhla, Delhi
"Mass Spectrometry holds vast potential across various fields. Its primary application lies in metabolomics, which falls under the domain of analytical chemistry. It is extensively used in crucial areas such as newborn screening, hemoglobin analysis, and therapeutic drug monitoring. Moreover, Mass Spectrometry finds wide utility in pharmaceutical companies for drug discovery and pharmacodynamics, enabling advancements in the field."
Dr Anuj Parkash, Senior Consultant & Head – Biochemistry | Department of Pathology & Laboratory Medicine | Medanta- The Medicity, Gurugram
"There are three key participants: researchers, clinicians, and the industry. Our objective is to unite these three stakeholders on a shared platform, and the most effective approach to achieve this is through communication, conferences, and workshops that bring them together. We aim to foster collaborative research projects and engage in extensive research activities that involve both academic and hospital realms."
Industry Presentation
Dr Kanury V.S. Rao | Co-Founder & Chief Scientific Officer | PredOmix Technologies Pvt. Ltd.
"Any disruption in the health equilbrium is driven and perpetuated by alteration in biochemical reactions. Therefore, by examining the metabolism, which encompasses the entire range of metabolites in a biological fluid, it becomes possible to monitor the state of health. Since health is a dynamic process, the composition of metabolomics reflects the changes occurring in health over time. In contrast, genetic mutations are fixed and cannot provide information on changes over time, unlike metabolism."
Fireside Chat
Leveraging Emerging Technologies to Patient Engagement
Sachin Bajaj | Senior Vice President – Engineering – Microsoft BU | Persistent Systems Limited
"We have automated five distinct elements within our system. Firstly, the marketing journey, it encompasses the approach to patients or prospective individuals in the database. Secondly, care coordination, it involves consolidating and organizing plans, as well as submitting them. Thirdly, clinical documentation automation, it streamlines the process of note-taking and feeds information into Open AI. Fourthly, virtual health which introduces a symptom checker tool for individuals to conduct self-checks and assess how they are utilizing the technology. Lastly, clinical analytics which focuses on various aspects from the perspective of providers."
Shreekanth Joshi | Vice President – Engineering – Health & Life Sciences BU | Persistent Systems Limited
"When discussing digital disruption, one significant issue that is expanding is the digital divide. From the patients' perspective, concepts such as access, affordability, and quality have gained significant visibility and prominence in Western markets. In India, these problems are acknowledged, but only minimal efforts are being made to address them."
How to Keep Patient Safety and Quality the Main Thing in a World of Distractions?
Dr Sushil Kumar Meher | Head – IT | AIIMS
"India, being a highly populated country, faces the challenge of overcrowded hospitals due to the high demand for healthcare services. Providing quality care and ensuring patient safety in such circumstances is a significant challenge for healthcare professionals. However, the government is actively taking steps to address this issue in both government and private hospitals."
Arun Goyal | Chief Information Officer | Sir Ganga Ram Hospital
"For the safety of patients, the Government has introduced the ABHA Id (Ayushman Bharat Health Account) under the initiative ABDM (Ayushman Bharat Digital Mission). The ABHA Id is linked to the patient's AADHAAR, which serves as a unique identification across India and allows for easy traceability in healthcare data across different healthcare facilities."
J.P. Dwivedi |Chief Information Officer | Rajiv Gandhi Cancer Institute & Research Centre
"Technology has come a long way in predicting the movement of patients, including whether they are moving or lying in bed. Even in the case of a patient fall, AI can now alert nurses at the command station, indicating that something unusual has occurred. Initially, privacy concerns posed challenges in monitoring patients to such an extent, but with advanced technologies, these challenges have also been mitigated."
Rajiv Sikka | Chief Information Officer | Medanta – The Medicity
"The appeal of technology lies not in its existence but rather in the importance of its applications. Even smaller applications, such as using technology to take samples of the patients at the bedside, have allowed us to implement numerous safety measures in recent times. These measures have moved beyond theoretical concepts and are now actively being used."
Nikhil Goel | Vice President & Group Head – IT | Max Healthcare
"Patient safety is influenced by a combination of human error and the level of technology adoption. Effectively, it involves equipping nurses and medical practitioners with tools to minimise errors. One significant adoption in this regard is the usage of Electronic Health Records (EHR) in both outpatient departments (OPD) and inpatient departments (IPD). With EHR, various aspects such as medication management and other prescriptions by doctors can be closely monitored and controlled, leading to a reduction in errors to a certain extent."
Dr Rohit Kumar | Medical Director & Specialist General Surgery | International Modern Hospital Unlike in Dubai, where a doctor's license is attached to the hospital, in India, doctors have the freedom to practice anywhere. However, this system poses both privileges and risks. Therefore, if doctors are granted the privilege to practice freely, it becomes crucial to evaluate the number of surgeries performed by each surgeon throughout their career and assess the outcomes of those surgeries for the safety of the patients."
Industry Presentation
Dr Sunita Bijarnia-Mahay | Sr. Consultant | Clinical & Metabolic Geneticist Institute of Medical Genetics & Genomics | Sir Ganga Ram Hospital
"The impact of our research cannot be overstated. By bringing attention to the effectiveness of Mass Spectrometry technology in diagnosing and managing Glutaric aciduria type 1, we have opened up new avenues for healthcare providers and policymakers to prioritize newborn screening programs. With the widespread implementation of these screenings, we have the potential to positively impact countless lives and prevent unnecessary suffering."
Industry Presentation
Dr Heera Lal | IAS, Mission Director | National Health Mission – Uttar Pradesh & Additional Project Director- Uttar Pradesh State Aids Control Society
"EKavach is a comprehensive primary healthcare application developed by Argusoft India Ltd, based in Gujarat and owned by the Government of Uttar Pradesh, under a Memorandum of Understanding (MoU) signed between the two entities. In Uttar Pradesh, there are 164,000 ASHA workers, 27,000 ANMs, and 18,000 CHOs, making it challenging to individually evaluate and assess all of them. To simplify this process and achieve the objective of monitoring them all, we initiated the implementation of EKavach."
The 11th Elets Healthcare Innovation Summit & Awards was more than just a conference. It was a platform for all stakeholders in the healthcare ecosystem to shape the future of digital healthcare in India. The event provided an exceptional opportunity to connect, collaborate, and contribute to the ongoing digital revolution in healthcare.
In conclusion, the 11th Elets Healthcare Innovation Summit & Awards was a resounding success, marking a significant milestone in the journey towards a digitally empowered healthcare system in India. The event was a testament to the power of innovation, collaboration, and recognition in driving the future of healthcare.
Get the inside scoop on the latest event highlights! Stay updated by subscribing to ehealth.eletsonline.com and discover the valuable insights shared by government dignitaries at the summit. Don't miss out!

Follow and connect with us on Facebook, Twitter, LinkedIn, Elets video

link