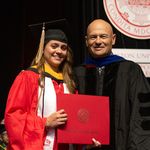 Pre-Med Undergrad Makes Successful Pivot to Health Informatics Thanks to BU MET
Christel El Hayeck
Associate At Strategy
MS in Health Informatics with a concentration in Applied Data Analytics (MET'23)
What motivated you to earn your master's degree at this point? Why did you choose to fulfill your goal at Metropolitan College? 
As an undergraduate, I attended the American University of Beirut and earned a bachelor's degree in biology on the pre-medical track. But the global COVID-19 pandemic and the unprecedented economic crisis in my country made me reassess my career aspirations. I realized that being a doctor wasn't my true calling. I also understood the importance of data handling, which sparked my interest in transitioning into a data-related field.
Despite limited experience aside from summer internships, I pursued a master's degree at Boston University. My objective was to acquire concrete data skills and develop a deeper understanding of medical informatics. To begin my informatics journey, I earned a Google certificate in Python. Since then, my passion for gaining more skills in this field has only grown.
I chose Metropolitan College because of the comprehensive approach used in the MS in Health Informatics, concentration in Applied Data Analytics program and the opportunity to explore different fields through the available concentrations. This approach allows for a broader understanding and better acquisition of skills. The learning environment at Metropolitan College and its support system catalyze success. It offers exposure to real-world projects and the opportunity to learn from passionate professors and industry leaders. The academic accreditations further enhance its appeal.
Congratulations on your high achievement in the MS in Health Informatics program, Applied Data Analytics concentration, and your Award for Excellence in your studies! Looking back, what do you consider to be the main ingredients of your success? 
Thank you. This has been an incredible journey, and I can confidently say that hard work pays off. Several key factors contributed to my success. First and foremost, the support of my family, friends, and professors was vital in pushing me to give my best. Secondly, taking full advantage of the many resources offered at BU MET was a game changer for me. The university provides valuable resources that have helped me excel in my studies and beyond.
My commitment to fully engage with every opportunity and resource was also crucial to my success. I prioritized staying on top of my work, absorbing every piece of advice, and immersing myself in learning. I always kept the bigger picture in mind, recognizing that each project or assignment was not just a task to complete but a building block for my long-term professional development.
This perspective was reinforced during an internship last summer when I realized that I was able to demonstrate my capabilities only thanks to the skills and knowledge acquired through the BU MET program's curriculum. The courses provided a solid foundation that proved essential in my practical experience. Overall, my recipe for success has been a combination of unwavering support, utilizing available resources, and focusing on long-term goals.
How were you able to successfully balance your studies with your commitments outside the classroom? 
I balanced my studies with commitments outside the classroom by being organized, accountable, and establishing clear priorities. At the beginning of each semester, I created detailed calendars to track all my assignments and obligations. I also sought support from peers and academic resources whenever I faced challenges or needed guidance. These practices are vital in the educational setting and serve as a useful example for the professional world, where responsibilities are more demanding.
Was your success in the program driven by a particular outcome—such as professional advancement, educational achievement, personal satisfaction, or something else? 
Personal satisfaction was the primary driver of my success. Seeing the tangible results of my hard work and experiencing continuous growth and learning fulfilled me. They motivated me to stay focused and determined throughout my academic journey. Additionally, I consistently kept the bigger picture in mind, recognizing how dedication and commitment to my work would positively impact my future interviews or professional endeavors. This perspective motivated me to give my best effort in every task.
Is there a particular course or project that enhanced your experience in the program? Please explain.
Every project I worked on during my master's degree program significantly enhanced my experience. In my first semester, I was assigned to build a project of my choice that I would be proud to explain in a job interview. I kept this directive in mind, ensuring that each project I undertook would be worth including on my resume. The effort I invested in aligning projects with my aspirations paid off. Since I enrolled in the master's program immediately after completing my undergraduate studies, my professional experience was limited. However, the projects I worked on through my courses provided me with a substantial body of work that reinforced my resume and interview performance.
The practical nature of the projects at BU MET is a game changer and provides us with the tools we need to demonstrate our capacity to apply learned concepts and solve real-world challenges. Every project gave me a solid foundation to stand out and succeed in interviews.
What's next for you? If you are changing roles, moving on to a new career, or receiving any promotion, we would love to hear about it. Would you say your program helped prepare you for the next phase of your life/career/education? 
As a next step, I will be joining Strategy&, the strategy consulting business unit of the PricewaterhouseCoopers network, as an associate. BU MET has prepared me well for my next career phase. It facilitated a seamless transition from biology to health informatics and data analytics. I gained not only exposure to the healthcare industry, but also delved into other realms. This gave me a diverse skill set and a broader understanding of various domains. It also gave me the necessary tools to think strategically, logically, and efficiently—skills applicable across different fields. The program equipped me with a solid foundation. The combination of technical expertise and the ability to think critically and analyze information enables me to tackle complex challenges.
The knowledge and skills I acquired through the program will serve as valuable assets in my professional endeavors. The ability to approach problems with a structured and analytical mindset will be beneficial in navigating any field.
You were recognized by faculty and peers for your hard work and dedication to the Health Informatics, concentration in Applied Data Analytics concentration. What "words of advice" or encouragement have served as a guiding principle, or simply inspiration, for you? Any words of wisdom you would like to pass along to students starting in the program? 
My "words of advice" are: maintain confidence, utilize all available resources and, most importantly, have a forward-thinking mindset. Confidence is a critical factor in achieving success. Believing in oneself leads to accomplishing goals and overcoming challenges. It also helps in pushing beyond limitations and exploring new opportunities.
It is essential to make the most of the resources provided. Whether it's educational materials, mentorship opportunities, or support networks, these resources are necessary to enhance learning and personal growth and set a strong foundation for success. However, the most crucial advice is always to have a forward-thinking mindset. This involves envisioning the bigger picture, setting long-term goals, and consistently striving toward them. A forward-thinking attitude fuels motivation and commitment, allowing us to always give our best.
View all posts
link